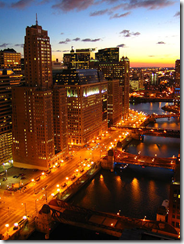 This weekend's School of Blogging Conference in Chicago will be very productive; after all, there'll be many there who write about personal growth and productivity. I'm anxious to see how everyone does at practicing what they preach.
Below are some great articles by each of these excellent writers (so if you're not attending, check them out!), an open invitation to get together with them and others in Chicago, and a nifty map for those who are attending.
I may very well have missed some folks or misjudged your blog–so let me let me know in the comments if you're heading to Chicago and are also a productivity nut like me–I'll add you to this list…


Clay Collins of The Growing Life makes me reconsider whether my path is the right one. (He's first here because the list is alphabetical, but I do visit his site every day.) His blog is full of challenging, dystopic, and productive ideas that he calls "Anti-hacks." His Tim Ferriss vs. David Allen smackdown is classic and his suggestion to quit and move on is worth everyone's attention.

Jonathan Fields of Jonathan Fields | Awake At The Wheel is a hedge-fund-lawyer turned yoga-&-online-marketing-maven with a penchant for cogent discussions about the state of the internet and the greater world around us. Productivity is only one part of his writing, but one where you'll find true gems like how to turn work into play and the secret of chronic non-finishers.

Scot Herrick of Cube Rules writes about making the most of our careers within the cubicle lifestyle. Clay and I will be working hard to convince him to get his readers to leave their cubicles, but there's no question that he's helped his readers make the most of that time by setting wildly important goals and recognizing what they need to complete to leave projects in good hands.

Stephen Hopson of Adversity University Blog writes about personal development with a long list of inspiring posts. He also does a great job on his blogger interviews. A couple worthwhile reads include his ways of looking at life and his discussion of the power of self-compassion. I'd love to see a conversation between him and Jonathan on religion and intelligence (see this by Jonathan).

Adam Kayce of Viverati writes about "exceptional life literacy"–how can you not love that explanation? He's also got a really kickin' blog design. I liked his articles on information intake and thought management. Add him to that conversation above with Jonathan and Stephen H: I'm very curious to see everyone here's take on spirituality and personal growth.

Stephen Smith of Productivity in Context is a true GTD'er–or at least he writes about getting things done. He has a great post on changing your habits and, in another, provides a thorough breakdown of his GTD system. His writing is a bit more workflow oriented than some of the other folks here, so I'll be curious after four hours of drinking on the boat if he'll admit that no system is without holes.
I hope that all of us can get a chance to chat and lend some perspective. Maybe some drinks on Saturday night?

And, if we're lucky we'll get some other really awesome people to join in (who I didn't list above since their blogs have a different focus). Some awesome people I'm excited to meet include the witty and prolific Communicatrix, Colleen Wainright; the godfather of PowerPoint, Cliff Atkinson (sign my book!); and one of the few business (i.e., not just marketing / PR / social media) consultants who gets blogging, Dawud Miracle. I considered listing all the other folks whose blogs I read (yeah of course Brian Clark rocks, though I think he'll be busy), but I didn't want to turn this post into name-dropping. I do need to thank Terry Starbucker and Liz Strauss for their tireless efforts in organizing this event.
I'm looking forward to some good productivity chats and meeting all the great people at SOB Con. Hope you'll forgive that the new Technotheory site isn't ready yet but instead check out what I'll be pitching in the mean time ;-).
You all up for getting a drink? Are there other folks who I omitted?
Bonus: here's a map & schedule of the conference I put together on Google:

Chicago photo by sparkles. Other photos from the websites of the people linked. If you want me to take down or post another, just let me know.


You should really subscribe to Technotheory via

email or rss.
---
---