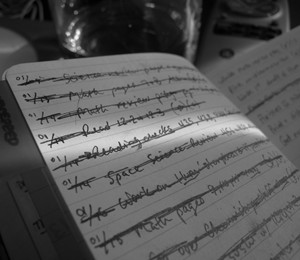 At the core of getting organized and staying on task, there are really only a few requirements.
Rather than a dozen ninja lifehacking tips, this post will help you to identify the core strengths and weaknesses in your process. I feel that these five things define the workflow of a productive knowledge worker:
Use lists to keep track of the stuff you need to do (tasks)
Use a tool that notifies you of time-specific activities when you need to do them (calendar)
When working with inputs (inbox, voicemail, RSS, custom homepage, etc), don't skim and revisit them, process them (do them, assign them, get em out of site, or place them in 1 or 2)
Commit time to responsibilities (1 & 2) while minimizing interruptions (from 3)
Trust the above system
My biggest challenge is staying away from distractions (4).  Many people have an incomplete way of organizing themselves (1 & 2), so they rely on memory or hopefully revisiting what they need to remember in one of the places mentioned in 3.  A lot of people can pull off 1 & 2 but don't trust the system (5) enough to stop checking their inputs all the time (3).
I know this is far from a comprehensive guide to accomplishing any of the above (perhaps that will come), but I hope it helps you to identify where you're strongest, or could use more work.  Like when we revisited the Two Minute Rule in July, sometimes it helps to get back to basics.
If you have thoughts on your own personal experiences with these, or would like to suggest other core components to consider, please feel free to offer them in the comments.


You should really subscribe to Technotheory via

email or rss.
---
---