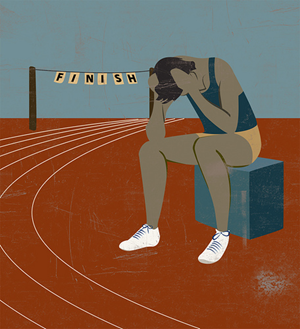 I don't write about productivity because it comes naturally.  I'm more the psychologist who started as a headcase, hoping to both treat himself and uniquely identify with his patients.
The following are my failures, some that I've learned from, and some I've yet to rationalize.  Maybe my difficult lessons can help you to succeed.  Added later: I hope you'll stay on for a surprise.
While I may a have penchant for learning the nuances of others' success at balance, discipline, and focus, sometimes I feel no more effective at applying them than the average plumber Joe.  The following are five things I've tried and struggled with:
You know, I was going to make a #5 that had to do with sticking to my task list.  But the truth to this is much like the truth of the other items on this list: it's not a total failure.  For instance, I'm very good at using Outlook To Do's / flags but I sometimes have to write out big goals for a morning on a sheet of paper or the white board.  Try as I might there always seem to be times when I have to write things down.  (The bigger problem is I often don't make it through the list…but I guess that's human.)
The area where I consistently dream and fall short of success is trying to stick to daily routines (as you can see from the first two items above).  I don't think it fits my personality (or how often I go out at night), but by having more flexibility in my work schedule (and starting the day a little later) it's become less of an issue.
I can't finish this blog post in good faith to you, because even though I have failed at a lot of the above (and do continue to get frustrated at myself), I think that every month I have gotten better.  And it's recent things that have helped.  For instance, surrounding myself with others who are successful at these things and learning to set expectations on what comes naturally to me have been huge helps.  Occasionally revisiting my commitment hacks has been useful.  And sometimes I just have to remind myself to slow down or go home.
So this article has gone full circle, and I may have disappointed you.  I've surprised myself…but I'm still going to publish it.  The odd moral to the story is clear to me—if you stick at this stuff, and try to find ways to get past things that have you stuck, you'll eventually make it there.  This wasn't meant to be a feel good piece, but I'm glad it's become one.
Have you surprised yourself lately?  Isn't it kind of amazing when you finally hit that tipping point and suddenly have more control over your work, your life, and your time?
Cheers.


You should really subscribe to Technotheory via

email or rss.
---
---