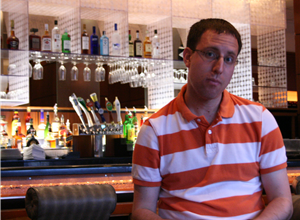 I've eaten too much.  The wine hath overflowed.  But the lesson is not lost: there's a lot to be grateful for.
Thanksgiving is my favorite holiday, but it's not really my holiday.  And it's not yours; well, unless you bring others in…
I got one of those cheesy forwarded cards in my email today—you know, the ones you used to get a lot back in '99 or whatever: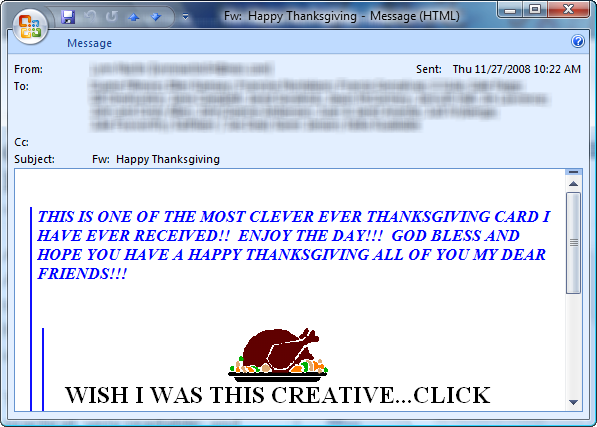 When you click the turkey you get an animated sequence that arranges food from the turkey dinner until you end up with a turkey (no you really don't need to watch it).
Silly?  Yes.  Impersonal?  Perhaps.  A waste of time?  Well, I don't know.
Our emails are curt and businesslike.  Our friendships are scheduled and one-dimensional.  We both observe and expect certain behaviors in most of our interactions.  But sometimes we have to step outside of these roles.
Well, thank you, Lynn, for sending me this silly turkey card.  Because it was better than no thank you at all.  It's not my style, but I think we all need to let people know that they're in our thoughts.  And this is at least one step closer.
My style is sending a quick text message, calling, writing a few-line email, dropping an IM, sending a direct message on Twitter…but whatever it is, it's a somewhat personal, warm message.  And, of course, for your loved ones, showing that in whatever way you can—in person, over the phone, or in a hand-written card.
Does it seem like I've gotten off track?  Perhaps, but here's a little exercise you might want to try: pick 5 people in your speed dial list and send them a text message with either (depending on when you're reading this):
"Hi X, just wanted to let you know I'm thinking of you today.  Thanks for being awesome.  Hope to see you soon :-).  Happy Thanksgiving!"
"Hi X, I missed you on Thanksgiving, but thanks for being awesome.  Hope you had a great holiday, and hope to see you soon :-)"
Or you could do that over email.  Or the phone.  But just do it.  It'll make you feel so good and it'll make them feel even better.
And to you, my kind reader, I really appreciate your time and loyalty, and for helping me to get from the things I was doing to more of the things I truly believe in.  I've never felt like I was in a better place, and your support has been a big part of that.
Thank you, and Happy Thanksgiving.


You should really subscribe to Technotheory via

email or rss.
---
---