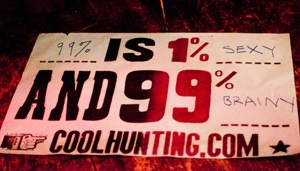 The 99 Percent Conference was full of practical tips and poignant insight for turning your ideas into reality.
The following are highlights from one of the best events I've attended.
"It's not about ideas.  It's about making ideas happen."  That was the theme of yesterday's The 99 Percent Conference at the Times Center in New York City.  Most events inspire us to to be creative, and educate us on a particular discipline, but yesterday an assortment of well-known innovators explained how they consistently turn their creativity into reality.   Behance and Cool Hunting organized the event; as usual, they delivered on their promise.
Key Takeaways From the Speakers
The following are some takeaways you might find valuable, in the order that they were presented.  These are not summaries of the talks, just my favorite bits.  After these you'll find a separate notes section from Scott Belsky's talk, as he presented between a number of the sessions about Behance's research findings.
Cheryl Dorsey (Echoing Green) referenced the value of asset-based thinking.  Douglas Rushkoff describes it as "instead of focusing on what we still lack, we must take stock of what we already do have in terms of resources, abilities, and pure will."
Scott Thomas (Obama for America) explained the power of constraints when you need to act fast.  Most of us have fairly liberal deadlines without very serious consequences, at least when compared to a presidential election.  Scott relied on a few key branding points (they always promoted the message of "We" as opposed to "Obama," they wanted to symbolize "Hope") and a few specific designs (such as Web 2.0, Instant Vintage, and Timeless).  They received boatloads of ideas from people, ideas which they had to act on very quickly; they relied on these constraints to make fast decisions about which ideas to implement and how.
Ji Lee (Google Creative Labs) demonstrated the power of personal projects to further our professional careers with his Bubble Project and WTC Logo experiments.  If you're looking for examples of the power of virality and the influence of design as social commentary…check him out.  You may ask what this has to do with productivity?  He used sharing (often crowdsourcing) to get some of the best parts of his work pushed forward by others, he then used his publicity to grow his platform, and he used the experience for both personal and career development.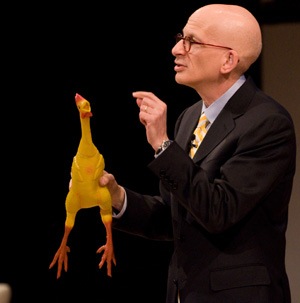 Seth Godin (Squidoo) explained how we're our own worst enemies, preventing projects from going out at the last minute.  His recommendation was to put your time up front (in the specs, the research, the outline, etc) and then (forcibly, if possible) commit your team to it.  It's easier to become more resistant as we get closer to the finish line:we're afraid of what the world will think as we get closer to others seeing our work, but we have to pull through.  Clearly his organized, don't-change-everything-at-the-end approach has paid him back in spades.  One very salient point that drove this all home: we are not creatives, we are shippers.  The moment we forget that and become last-minute tweakers, nothing will get done.
Jeffrey Kalmikoff and Jake Nickell (Threadless) touched on some valuable points and offered up a pithy motto. One point that hit me was the value of working hard to maintain a scrappy upstart approach even when you encounter success–it's easy to add team members and grow complacent but that will both change the dynamic of the company, and take away a competitive advantage.  Their motto for the past year has been "brutal prioritization, maniacal focus."
Jason Randal emphasized the power of stretching your capacities to learn by focusing on speed-reading techniques, understanding mnemonics, improving your short term memory capabilities, and making competitive games out of your skill acquisition.  He closed with one tip that I write about a lot: surround yourself with people who are where you'd like to be, and who share your passions.
Michael Bierut (Pentagram) offered a technique he used when problem solving: listening carefully for as many constraints that a (client or internal) team can provide to you, and then look for the incredibly obvious (and simple) solution.  That's often the one that will work best.
Scott Belsky / Behance's: How Businesses Make Ideas Happen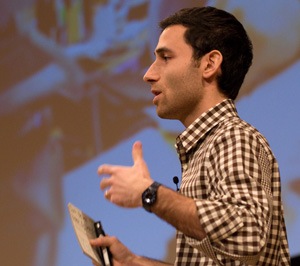 Scott Belsky (Behance) was the primary organizer of the conference, and his team has been conducting research for an upcoming book about how some companies are able to consistently turn their ideas into realities.  During the conference, Scott unveiled many of their findings.  He spoke three times and covered a bit of material:
Creativity x Organization = Impact.  Let this one resonate for a minute.  I imagine it's the reason why you've read this far.
Reduce insecurity work. Work without an intended outcome needs to be dealt with in small and spaced-out doses.  For instance, checking Facebook notifications or reviewing website analytics may be interesting information, but it's a distracting timesuck that often stems from our insecurities.  We need to be better at this, both for time management and our sanity.
Don't let today always trump tomorrow.  If I caught this right, this is a a perspective on the urgent vs. important concept: just because something is appropriate now doesn't mean it's the best thing for you to be working on.  So don't let today's urgencies and minutiae come before what may be the next big thing tomorrow…if you could only get to it.
Separate your list of back-burner goals from what needs to happen now.  Curate your back-burner list on a regular basis.
Have a culture of capturing action steps.  How many times during a conversation with a co-worker has something come up that needs to get done?  Everyone at an organization (not just business owners or managers) needs to be ready to capture those tasks immediately into a system.
If a meeting is without action steps, why is it even happening? There may be another reason, but it makes sense to think long and hard if that meeting could instead be turned into a couple emails or a wiki.  Meetings are expensive (in all senses), so it's important to question whether they're always necessary.
Fight your way to breakthroughs.  It's easy to become apathetic or to overpower others when working through a solution.  Instead, fight it out in such a way that the best decision emerges.  Not every decision has to be a battle, but it's important to maintain a culture where people are willing and interested to speak up.
A Great Time
I'm quite glad to have come into NY for The 99 Percent.  If they put on the conference again, it'll certainly be worth the trip.  Thank you again, Behance and Cool Hunting, for making yet another cool thing happen.
Note: the photos above were by me.  I'll put up some Flickr pics from the event shortly.



You should really subscribe to Technotheory via

email or rss.
---
---