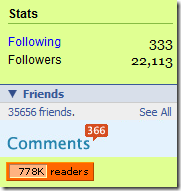 Social networking and blogging can feel like a high school cafeteria, full of cliques and at-times silly symbols of popularity.  But unlike high school, there are always more people to win over and stages to advance.
Take a step away from the contests and consider applying the lessons you've learned in the real world to build deeper relationships online.
The Problem with Faking it Online
We all do it–whether it's the ratio on Twitter, the subscriber count on a blog, or the number of connections on LinkedIn–we consider this criteria when judging an individual or website.
Recognizing this, we try to improve these metrics for our own profiles and sites–sometimes at the cost of quality:
Publishing and writing articles that are more exercises in marketing than thought-provoking opinions
Utilizing link-aggregation sites to promote others in return for the same favor (regardless of the quality of the work)
Clouding our feeds with people we don't know or desire to know (in hope for reciprocation or a larger subscriber count)
But at the end of the day, do we want people or numbers? Have we improved our relationships or our fanbase?  Have we grown happier or just created a larger fire to feed?
Relationships in the Real World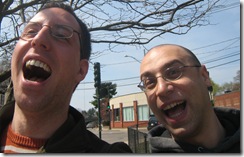 Before I answer the last question, it's important to think back to our own transitions from high school to (perhaps college and) the real world.  Every year I think about my relationships and what's changed, for instance:
Who are my most dear friends, the ones I'd like to spend a weekend with, share their special moments, call in times of need?
Who have I affected positively, brightened their day, colored their life, lent a helping hand?
If you're like most , the number of people you'd consider a dear friend decreases or remains steady in adulthood.  You may touch many people, but it's a small number who you know deeply enough to affect.  I may have more than 500 readers, follows, or connections…but fewer than a dozen are the ones I want beside me when I take my wedding vows (someday).  I don't think I have a deep impact on most of my social media contacts.  They rarely do on me.
We all have a capacity for quantity when it comes to connections, but most of us long ago accepted just a few people as our most cherished.  After all, it's those critical few who lead to our happiness.
How this Applies to Social Media
I'm not going to pretend that there isn't power in numbers, or that relationships aren't formed online.  But there is a problem–people often let online relationships develop one-way.
Example: after a few weeks subscribing to a new site, I feel a connection with the author(s).  I grow used to their style, become familiar with their interests, and begin to accept their eccentricities. But it's not really a connection–I'm just a fan.
You might argue that social media (blogs, networks, etc) offers the one form of publishing where the readers do get a voice.  You'd be right, but the question is how much of a voice we allow or ask of people:
How often do we reach out to our connections on social networks?
How often do we provide opportunities for our readers to participate or answer questions on our blogs?
I recognize that just because we reach out doesn't mean we'll get responses.  But when you provide opportunities for input, what are your intentions: are they to increase your comment count, see your name in someone else's Twitter response…or to really get to know someone better?  If your efforts to reach out are not about genuine interest then it likely will draw fewer responses and definitely will not further your connection with the reader.
"But What About My Numbers?"
Statistics offer validation for potential readers, and they can bring advertising dollars…so it's important to work on them.  But I don't think they're the point.  They may bring you fans, you may win some favors, but they don't create the type of mutual relationships that further  your well-being.
Think of it another way–popularity is transient , addictive, and has no end point whereas relationships can live without a "content-stream," and they serve to sustain your happiness.
What to Do About It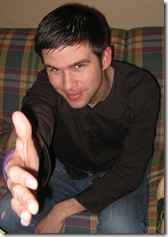 Reach out and build relationships, not just numbers.  Don't forget your friends in the real world.
Here's a start on this site: I want to get to know you better.  I hope to make this all the more worthwhile for us both.  (The image to the right is of someone who's a rockstar at getting to know his readers, Clay Collins of The Growing Life)
Please share a comment here to respond or tell me about you: your interests, your website(s), or whatever's on your mind.  No need to "stay on topic."


You should really subscribe to Technotheory via

email or rss.
---
---