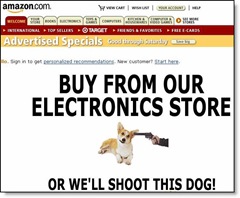 There's nothing easier than entering your credit card information and clicking Buy It Now. But there's more to online shopping than books and electronics. Here are some purchases you might consider making online. As a special bonus, I've also listed some of the tricks I use when making regular purchases.
A Note about Amazon Prime
While Amazon Prime is not necessary for the advice in the rest of this article, it's what has helped me to buy more without leaving the house. For $79/year, Amazon Prime allows you to receive most items on their site at no additional charge. No need to purchase a minimum of $25 and wait a week.
Before Amazon Prime I was either heading out to buy small purchases or adding items to my Amazon orders that I didn't really need…in order to meet the minimum amount required for free shipping. I earn back the $79 in time saved, in Amazon's discounts, and in lack of sales tax. It's a convenience to which I've become happily addicted.
Everyday Items You Might Try Purchasing Online
For years I mostly bought electronics, books, and office supplies online. Here are some things I'm happy to now buy online. Some of these might be old-hat for you, but hopefully a few will be new:
Toiletries – I now buy my toiletries in bulk (for instance, 5 shaving creams instead of one). Often at CVS.com you can not only get free shipping but often save $5-10 off a $50 purchase. On eBay I've also bought large quantities of razor blades and fancy hair gel there for less than half the price of buying them retail!
Drugs – I don't get many prescriptions but I've heard you can buy larger quantities for the same insurance copayment online. @markzero recommends drugstore.com
Specialty food – there are some foods I like a very specific brand, and I've liked it long enough that I don't mind hunting for it. Many are hard to find or aren't available locally. Some of my regular online purchases include Maypo oatmeal, organic Costa Rican coffee, Swee-Touch-Nee tea, and various loose leaf teas from Tealuxe and Seven Cups
Cables – we've all heard that it's the accessories where retailers make their money. My favorite accessory to buy online is cables. Cable Wholesale and eBay usually save me 75% over Radio Shack, Best Buy, or the like
Shoes – my biggest problem finding shoes was always selection, not cost. But between Zappos, Amazon, and Eastbay, I can find exactly what I want. Note that Zappos shipping and return options are unparalleled…and take care of the whole "what if I order the wrong size" with their free return shipping
Clothing – my friends have better luck than I do with clothing online. They swear by the clearance sections of sites like Banana Republic. I've had very good luck buying vintage clothing (and Halloween costumes!) on eBay. And if you want a fun T-shirt, nothing beats Threadless, CafePress, and the like
Mainstream artwork – if you're at a museum or poster store and you see a reprint of a famous piece, you can probably get it framed and shipped to you for half the price online. I've mostly used AllPosters.com, but bear in mind that you can usually get 25% off if you wait for a sale there.
Bonus Recommendations
Since I only made it to 7 in the list above, here are a few sites I use for some more regular online purchases:
Got Tips for Technotheory Readers?
Are there things you buy online that most people don't? Online retailers you recommend? Let folks know in the comments!
Photo credit for Amazon capture: daveschappell


You should really subscribe to Technotheory via

email or rss.
---
---