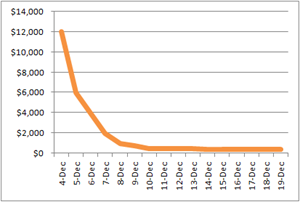 How much does it cost you to stay current…with your email, with the news, with your industry?  Today Seth Godin explained just how expensive it is.
And I want to reiterate the point.
Have you ever gotten a call from someone asking you an important question, and while they're explaining the problem to you, before you even get a word in, they solve it themselves?  If you had missed that phone call, it's safe to say that without your involvement that person would have been just fine.
That kind of thing happens all the time when you're available all the time.  It's always more difficult and expensive to be on the bleeding edge, to stay current with the news, to solve problems before any of the dust has settled.
Seth Godin's article today discusses this much more cogently, and one of his examples is email:
You can check your email twice a day pretty easily. Once every fifteen minutes has a disruption cost. Pinging it with your pocketphone every sixty seconds is an extremely expensive lifestyle/productivity choice.
I'd recommend you read his quick article and then think seriously what you decide to stay current with, and whether it would save you time, money, or energy if you waited a little longer for that information (or gadget, or software, etc).


You should really subscribe to Technotheory via

email or rss.
---
---