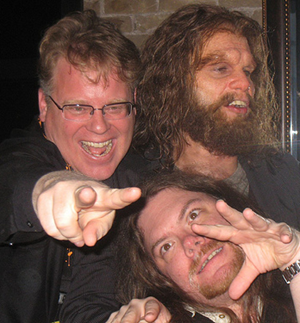 This is my third conference this month, and I'm loving it.  I think there's an approach to making the most of large events.
I've been lucky to meet some awesome people.  It's not like that's too hard, but I'll share what I do to make it easier.  (I'll try to skip the SXSW stuff I've seen others covering, and will instead link to them)
Feel free to skip this part… The approach I describe below isn't unique to SXSW.  SXSW is special, but conferences are all what you make of them.  If SXSW is known for being more friendly with more parties, that doesn't mean you have to treat it differently.  If anything, that means you have the option of learning from SXSW to be more friendly and have more fun at other events.  SXSW is a chance to lighten up, which is overall a damn good approach to conferences.
Like Aaron Brazell said, SXSW is about the people.  There are so many frickin' smart, interesting people you'll meet in the most bizarre circumstances.  So besides attending my session, I think it's important to just get out and be around people.  Even at the airport in Austin you'll be surrounded by them…just say hello!
SXSW Is All About The People
SXSW is big, so it's your job to make it small.  If you meet someone who frickin' rocks, spend a lot of time with them.  The person you meet one night for 20 minutes is not likely the one you're going to keep in touch with.  But if you spend half the conference hanging with a new group of people then you've just added a face to your life.  And, as importantly, it's just fun to hang with a new group for a change
Meet people where you expect to meet people you'll like.  Some of the panels are actually pretty good.  But don't just use the panels as a place to get information—use them as an opportunity to meet people who are interested in the same topic.  Some of the sessions are really specialized.  For instance, last year's GTD discussion turned into one of the best sessions of the conference, particularly because I met the guy who I just returned from coffee with, one of my now dearest friends
Find your old friends before.  my.sxsw.com is pretty neat.  Link it to your Facebook/Twitter and you'll find a bunch of friends who are already attending
Find your new friends before.  Search for keywords and companies that you're interested in here and then reach out to them.  People are surprisingly receptive.  And write down a list of folks you're looking for…big as SXSW is, you'll likely run into them
Schedule. Schedule. Schedule.  The trickiest thing about SXSW is that you'll want to go in fifty directions and it seems hard to find people.  Whenever possible, book some lunches and breaks with others in advance.  Use your my.sxsw.com and (much better) sxsw2009.sched.org to make it much easier to coordinate with others and keep track of stuff
Cell Phones > Twitter.  Whenever possible, get people's cell phone numbers.  Twitter is good, but text messages are safer, and then phone calls are really the best way to ensure you catch someone at a loud party.  So exchange phone numbers often or you will lose them
People are nicer than you are.  Okay, maybe you're not from the northeast where we suck at being nice.  But if you walk up to someone and say "hey, I'm Jared" (or whatever) they'll be nice in return.  When else will it be this easy to meet people (even those you're attracted to)?
Write down (particularly on your phone) your friends who are at SXSW.  If you find yourself with a moment or want to add some people to an outing, it's great when you have a list you can quickly browse of people who are nearby.  Introductions are what the whole thing is about, so it's great to be in a position to make them happen
Don't forget to use happyhour.org on your iPhone.  I can't use it but it's a great way to stay up to date on the evening festivities.  Parties come and go fast so this is even better than Twitter for staying in the know.  Great work, nclud and 200ok!
Sleep, rather than one more party.  It's not about meeting one more person and having one more drink.  I think you'll get more out of a few really great conversations with people so it's okay to just go home and sleep at a certain point…otherwise you'll never sleep at all
A Few Other Things
Bring lots of business cards everywhere.  (And stickers if you have them.)
When you get business cards, write something about the person on them.  And when you store them, store them by day so you have more context
When you take photos, shoot their name badge or card right afterwards—it'll make tagging so much easier
<rant>When you tweet about cool stuff in the panels, often times there's a link to the project that panelist was talking about.  Link to it, it'll make the tweet about 500x more practical and you about 500x more valuable to the Twitter world.  I hate when people say something out of context and don't help to connect the dots to the community at large.  Don't be that guy.</rant>
Go running!  Well, if you have time you should!  I put together a little group that's going running every morning: SXSW Runners
More Resources
If you're going to be at SXSW Interactive or Film, here's my tentative schedule. You can also reach out to me – jared AT technotheory dot com, or follow @technotheory.  (And don't forget my session with Kathy Sierra, Cliff Atkinson, and Craig Ball on Monday at 10am in Ballroom A, Presenting Straight to the Brain).
I'm totally excited… got any more tips?


You should really subscribe to Technotheory via

email or rss.
---
---