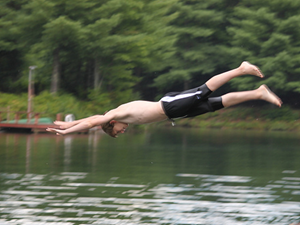 Last year I suggested we should choose just one word and label it a theme for the year ahead.  I reported back on that theme last week.
This year is a similar theme, but it comes from a very different basis—the word is swim.  I'll explain after the jump…
IOU in 2011
Last year I tested a lot of things, and I gave back a great deal to my community.  I'd like to believe I figured out a formula for pulling through with my company, and I know I was able to contribute to the DC startup and arts scenes in positive ways.
But as I mentioned recently, AwayFind is in a sprint right now.  We're building something pretty-frickin'-amazing, but we're not charging yet / earning revenue.  When the livelihood of both you and your team are on the line, and when you don't have much time to prove that your application has a market, that's where you need to focus.
So, unfortunately, that means that in 2010 I may ask for things from you to help me get through this year and be able to give back more.  I'll still be running Bootstrap Maryland and Ignite DC, but if things go well this year then next year I'll be able to do so much for you all in 2011.  So, while this isn't my theme for 2011, I want to thank you in advance because I'm betting the farm and could use your help.  More on that in future blog posts…
Back to the Theme: Sink or Swim?  I choose the latter.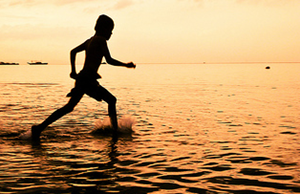 I remember when I bought a house in 2005.  Turns out that wasn't the best time to buy, and I ended up having a combination of respectable debt (mortgage) and less-good debt (home equity line + money owed to my family).  Within 12 months I paid off all the less-good debt and my business was kickin' ass.  I was a little worried though.
Right now I'm in a sink or swim stage with AwayFind.  Sure, there's no reason why the product would disappear, but the next six months will predict whether it's a viable business in its current form.  As such, my team and I will be doing everything we can to put ourselves on the map and grow our userbase.
If you've ever had employees, you know that there's no greater feeling than being able to support them in exchange for their hard work.  Even when times have been tough in the past (it's been almost 8 years now), I've never withheld payroll.  And I don't want to.  I want to hire and grow and make an impact on the world
I know what metrics I need to reach.  I believe I know what's best this time.  And I've got a grasp of how to push things forward that one can only have when they're at this stage in the game.  So, with every decision I make in 2010, I'll be asking, how will this push us forward on our critical path to gaining more paying users–how will this help us to swim.
It Ain't Glamorous
I've been thinking a lot about Tom's Shoes business model—every pair of shoes you buy, they donate a pair to someone who needs it.  There are ways to give back creatively, and I want to explore that.  If 2010 is a successful year then 2011 will be an opportunity to try out some of these business models and to give back so much.
It ain't glamorous to defer wonderful dreams solely for the sake of the mundane "stay in the black" concept, but that's what I've got to do.  Reading Chris Brogan or Seth Godin or Tim Ferriss and their many acts of good and ambitions, it's nice to learn about what we can do when our business is higher up Maslow's hierarchy.  But that's not the focus right now.
What's your theme?
Since I wrote this article last week I have been thinking more and more about Chris Brogan's concept of three words and about how I defined a more idyllic theme for last year.  And I think I stumbled upon something pretty big with regard to using themes to guide our decisions—perhaps even my own raison d'être.  More on that soon.  I am excited for 2010, even if I have to concentrate a bit on my own business.
I hope you have a pretty awesome year in store for you.  That you can grow your business and give back.  What's your theme going to be?  Is there anything I can help with now?


You should really subscribe to Technotheory via

email or rss.
---
---