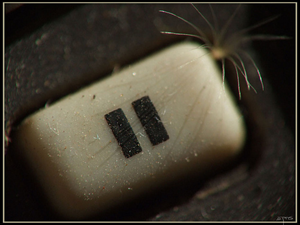 Momentum is inevitable.  You wake up one more morning the product of the months before it, and the previous "you" seems like a specter of years ago.
Sometimes you have to pause to examine both your position and your velocity.  It's time for three important questions.
What does your vision/company(/family) need most?*
This is a matter of identifying your critical path.  But if you haven't asked yourself this in several months, you may find that your path has changed.  It's important to recognize.
My company's product vision has changed a bit due to the responses from our users, newly available distribution methods, and various opportunities that have come to the surface.
And yet, it's still about growing an active (and paying) community.
*These may be three separate questions, and depending on where you are in life, it may very well be.  For me, my vision and my company's are aligned, and there's not yet a (new) family to speak of.
Do you want to spend your day differently?
Without asking the first question, you can't answer this effectively.  As much as you'd like to spend your time "at the beach" you need to factor in your critical path.
I think my responsibilities will soon have to shift.  I've been doing a lot of long-term, very specific business development, and have moved on from blogging and my online relationships.  In short, I'd passed along the marketing torch and focused on product/team.
My team is growing a lot this month, and we'll need to ensure that norms and processes are in place to address this growth…but after that I need to move back to marketing—both by writing here and by tactically engaging and growing AwayFind's community through both content and conversion tactics.
In short, I've needed to tend to a lot of company stuff, but the critical path is still customer acquisition.  Unless I find someone else to focus on this, I need to spend more of my day on that path.
What's changed that you have to accept, and what must change that you'll have to sacrifice to get there?
There's a reason we're not spending our days doing the things we want to do.  For me, I can blame lots of good reasons.  But I'll be cutting a bit from my life and making some hard (and some awesome) changes in the next three months.  I'm both excited and a little sad.
I wish I could list everything out here, but suffice it to say when trying to get from point A to point B, one has to be realistic about what led them to their present state and what absolutely must change to arrive at their destination.  I've taken a separate sheet of paper and made a list, you should, too.
I'm not proud that I haven't written much lately.  I've still got some to resolve before I write too much more, but I think you'll see more of me in Q3.  More from the blog, more from me, and more from AwayFind.
Still, I needed to pause here.  Hopefully that'll help you, too.


You should really subscribe to Technotheory via

email or rss.
---
---