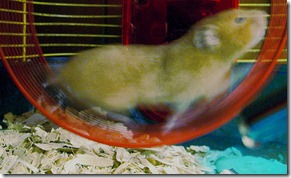 Don't confuse your task list with a way to get ahead.  Doing one thing that's truly noteworthy will get you further than staying on the treadmill.
Go above and beyond and forget your to do's.
We all know what "good enough" is—it's passable and professional, and while it won't win awards, it won't draw criticism.  We're always capable of "good enough."
But for a few things, we're rockstar good.  Maybe you can design landing pages, maybe it's funny replies to support questions, or maybe it's writing 10 page blog posts that land you on Hacker News.  Whatever it is, there are some areas where you can  do things that will pull people in and delight.
The sad truth is that when there are 957 things to do, many of them pressing, it's easy to do "good enough."  After all, some of our best work takes a lot of attention to detail and a lot of time.  What we don't realize is that 957 good enoughs is worth less than one above and beyond.
It's okay to fall behind, and then to fall behind further.  It's tempting to switch into maintenance mode, to get more things done at good enough.  But then you're just on the treadmill.  You're not getting anywhere.
Don't get things done.  Put them off to work on something better.  Be remarkable.


You should really subscribe to Technotheory via

email or rss.
---
---