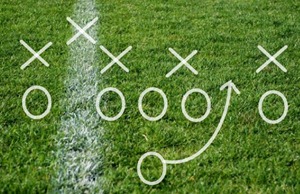 Scheduling conflicts and jetlag are what usually come to mind when people speak of timezones.  But they can play a crucial role in productivity, too.
Like an offensive line that makes room for the star player to act, the right timezone frees you to make the play.
This past week I worked out of Paris (to attend and speak at Le Web).  I was reminded how incredibly easy it was to get ahead when everyone in the States was asleep.  But to keep my team on task and address some big opportunities, I also found myself Skyping and emailing from 1-3am.  It was the best and it was the worst.
A few years ago I worked out of Barcelona.  This past summer I worked out of Buenos Aires.  A big part of why I take these trips is that they're simply better timezones for me.  And I mean it when I say that the only thing I truly dislike about San Francisco is Pacific Standard Time.
Timezones play a very important role in my ability to get things done.  Like a long flight without internet, they keep interruptions at bay.  But timezones also mean something psychologically—when I accomplish things before others are even online, it feels different.  A good timezone is an opportunity to not only get ahead but to feel ahead.  That's powerful.
Try as I might to find another pattern, my routine has been unchanged for several years.  I get the most accomplished in the mornings, when I prefer to keep to myself.  I prefer to take meetings or calls in the afternoons.  And, no matter what advanced calendaring or 'get up early' techniques I've tried, nothing allows me to maintain this rhythm quite so well as a good timezone.
Essentially, I like to be slightly ahead of those I'm working with—ideally 3-6 hours.  In Buenos Aires I'm now 2 hours ahead of my east coast folks and 5 hours ahead of SF.  In Barcelona or Paris I was 6 hours ahead of the east coast (where I used to live), which was manageable…but the 9 hour difference from SF (where I now live) is not manageable.  So that means Europe is generally off my radar now, at least for long trips.
Of course, all of this assumes that when traveling there's still an opportunity to get into a rhythm and complete your work.  Being far away from home can be challenging, but these days so long as you can find a good office, coworking space, or even coffeehouse, you should be able to get things done.  I try to take month-long trips since it's enough time both to build a routine and qualify for monthly rates on apartments and offices.
I've been behind on writing to my blog, but now that I'm in Buenos Aires, it's easier to find that time, as I'm probably writing this before you're even awake.  I'm free from interruptions, and I must say that it's nice to have long days in the summer sun.
Now it's your turn to get away and get things done.  Who says they don't go together?


You should really subscribe to Technotheory via

email or rss.
---
---