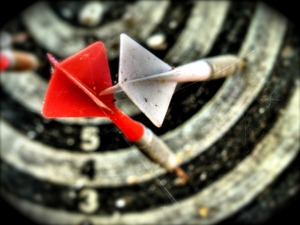 In the past week, two of the smartest people I know have taken issue with features or projects I'm working on.
They were engineers, and their arguments were logical and comprehensive, but fundamentally misguided.
Their arguments were of the "this won't cure cancer" variety: they explained that my proposed solution would not be definitive, just like most research on cancer targets just a subset of people.  Trying to cure cancer is about making progress, until maybe someday we arrive at the true panacea.
Here were the specific arguments presented to me:
This pattern doesn't always indicate [that path], so we can't recommend [that path] to the user"
- paraphrased from a conversation with Person A
But the pattern (which was easy for our software product to identify, but nearly impossible for a human to recognize) is accurate more than 90% of the time.  So, as far as I'm concerned, 90% is good enough to recommend a path to our users.  This solution doesn't address a life or death problem, but even if it did, it'd still be the best recommendation.
It has the potential to be successful, much like businesses that sell anti-aging cosmetics to aging women.  The customer understands that the problem is unsolvable, but readily pays for a combination of A) buying time on the hamster wheel, and B) fooling themselves for some amount of time.
- verbatim from an email from Person B
Once again, this colleague is comparing a working solution to a fantastical cure-all.  My solution wasn't tricking people, it was just solving one portion of a bigger problem.  If that portion weren't a problem on its own, then perhaps I'd be selling snake oil to fools.  But if that portion is legitimate (and he does believe that there are benefits) then I'm making real progress for real people.  Even if I'm talking about productivity rather than saving lives.
Someday all of us can hope to cure a disease or overthrow a nascent industry.  In the meantime, it's both reasonable and right to push society forward in small and meaningful ways.
Aim for progress, don't get caught up in perfection.


You should really subscribe to Technotheory via

email or rss.
---
---