Update: this has been downloaded over 10,000 times!
In the mean time, I put together a web tool that helps people to spend less time with email. It helps me tune out email distractions so I can check my inbox twice a day, but still get notified of urgent stuff via text message. It's my other project (called AwayFind), you can check it out here (it's also free).
The original 4-Hour Workweek Dreamline spreadsheet is available at that link. Below you'll find a newly designed version that incorporates a lot of the feedback I received.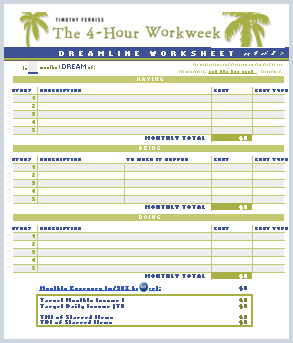 Download the Dreamline Worksheet and Expense Calculator 2.0 (Excel/XLS)
(Find the original instructions here)
The most noteworthy new feature is allowing both one-time and monthly expenses. In the previous version, one had to determine the monthly cost of each of their goals. Now one can enter the full cost and the spreadsheet will divide that total by the number of months for the Dreamline:

One thing to considerwhen using this new feature is that some purchases lend themselves to long-term monthly installments, like a mortgage or car payment. In those cases one should enter their monthly mortgage payment rather than the cost of the house.
The additional changes were small:
Prompts that help guide the user through the spreadsheet
Wider, improved printed layout
Minor bug fixes (these were all added to the previous download page as released, but many people have likely been using earlier versions)
If you find this helpful, you'll probably enjoy my other posts on 4-Hour Workweek related topics. You can also subscribe to my blog by RSS or email today to stay notified of updates to this spreadsheet, and to read other ideas for reaching your goals through productivity hacks.
Feel free to leave any thoughts you have on this spreadsheet in the comments below, or add this to Stumble, Digg, or del.icio.us!


You should really subscribe to Technotheory via

email or rss.
---
---