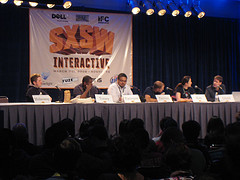 The only thing more difficult than picking panels and parties at SXSW Interactive is sorting through the coverage afterwards. Here are my recommendations for kick-ass panels so that you can listen to or read more about them. It's no replacement for being there, but it's as close as you're going to get now… Following my recommended panels I mention some party highlights and other ideas for good SXSW reading. Feel free to add your own recommendations or links in the comments below.
Note: I'll update the podcast links as they become available on SXSW's site.
Personal favorites
Beyond the Blogosphere: How Online Talent is Being Developed Offline – this rockstar panel–Omid Ashtari (Creative Artist Agency), Damon Berger (Revision3), Brad King, (thedudeman.net), Nicole Lapin (CNN), and Gary Vaynerchuk (winelibrary.tv)–was packed full of valuable insight. Vaynerchuk was hilarious and there were questions and commentary with Tim Ferriss, Jeff Jarvis, Erik Nordby, Jim Louderback, and even Twanna Hines. This was a panel full of sharp people with conversation to match it. [podcast] [description on SXSW]
Tools for Enchantment: 20 Ways to Woo Users – Kathy Sierra never fails to offer an enlightening perspective, and do it with wit & flare. Here she explains 20 ways to get your audience's brains more interested in your message/product. She ends with a touching surprise that got everyone cheering. [podcast] [description on SXSW]
The Art of Speed: Conversations With Monster Makers – This panel, moderated by Tim Ferriss, featured Mike Cassidy (XFire and others), Evan Williams (Twitter), and Cali Lewis (GeekBrief.TV). It offered a lot of creative ideas for growing a business rapidly. [podcast] [description on SXSW] [coverage]
Ones many others have recommended (I may add to this list)
Peas in a Pod: Advertising, Monetization and Social Media – The title may sound dry, but I heard this featured some very lively debate between Kent Nichols (Ask a Ninja) and Tim Kendall (Facebook). Other panelists included Ellen McGirt (Fast Company) and Seth Goldstein (Socialmedia Networks). I wish I could've seen this in person… [podcast] [description on SXSW]
10 Things We've Learned at 37signals – Jason Fried of 37signals opines on their lessons-learned. Always a treat to hear the thoughts from the founder of arguably the most successful small company there is. This got rave reviews for the advice / unique approach offered [podcast] [description on SXSW]
Keynote by Frank Warren – Frank Warren tells the PostSecret story and his thoughts on sharing secrets. If I hadn't been long familiar with PostSecret (it started just a few miles from me), I would've attended this. Frank's emotional keynote brought the crowd to a standing ovation. [podcast] [description]
My Favorite Parties
Other Miscellany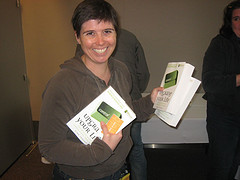 I can't finish this post without some personal thank you's to people who took the time out of a busy week to really chat. Thank you to Gina Trapani, Tim Ferriss, and Deborah Schultz for being so open minded and helpful.
Do you have any recommendations or thoughts?


You should really subscribe to Technotheory via

email or rss.
---
---