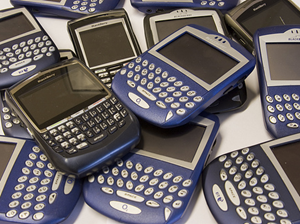 Six months ago I turned off automatic email downloading on my phone; it was one of the best decisions I've made.
Having access to email on the go is helpful (as is web access), but downloading email automatically does more harm than good.
Instead, consider checking email only when you have the time to act on it, or when you're looking for a very specific, timely message. I list instructions below on how to disable auto-check…but first, here are ten reasons:
Battery life. Constantly checking email kills your talk time. Since turning off "automatic synchronizing," the battery life on my Motorola Q (Windows Mobile) has more than doubled from "I hate this worthless phone that doesn't last a day" to "oh, I forgot the charger, no big deal"
Setting expectations. Anything you can do to train your contacts that you are not their slave is to your advantage. Writing back in a few hours (preferably at your desk) is perfectly reasonable (my thoughts on being responsive vs being available)–don't let people think you're always available for them
Quality of response. You may have an itch to respond to emails right away, to get that tiny responsibility out of the way. But the quality of a 90 second response on a BlackBerry is rarely as high as a 15 second response on a computer. Typos and grammar are just a few of the problems a small screen and tiny keyboard lead to–people forget to respond to all the points, and often omit the necessary detail they would've typed on a full keyboard. These shortcuts are often confusing and poorly received by the recipient. If you don't have your email delivered to your phone all the time, you won't be as tempted to respond. (If you have to get back to someone on an important topic and don't have a computer handy, consider calling instead)
Does it really save you time? If it's easier to both read and write messages back at your desk (and to think through them), consider the time you're taking away from whatever you're doing. Finding out sooner, when you aren't focused and can't respond intelligently, often isn't saving you any time
Sanity. For the same reason you shouldn't read emails as they arrive on your desktop, reading emails as they arrive on your handheld can completely mess up whatever you're doing. You never know when a frustrating or exciting email will arrive; save yourself the trouble and focus on what you're doing…then check your email when you're finished with that task
Out of site, out of mind. The less connected you are, the more at peace you'll be in your current setting. Wouldn't it be great to be present at the restaurant, the movie, etc? Get in the habit of not checking your email on the go unless there's a reason to, and you'll start enjoying your surroundings much more (and leaving work thoughts behind)
Driving safety. Do I need to say more? How about this story or the fact that many states will ticket you?
It's just not cool. Your phone may be a pop culture icon, but repetitively looking at it makes you look like a dork. No, people won't think you're "important"
Politeness. People feel unimportant when you keep looking away from them and at your phone. Are your real world friends less important than a message from your neighbor on Dogster?
Consider the medium. Email may be sent through the internet rapidly, but it's not instant messaging or SMS (text messaging). It's not an instantaneous communication and it's perfectly acceptable for you not to treat it that way.
Here's how to turn off "push email" or automatic email downloading…
On a BlackBerry, you can turn off data in the Options, Network area
On an ActiveSync device, go to your Synchronization screen, click Menu, select Schedule and change both Peak times and Off-peak times to "Manually"
On an iPhone, in the Mail Settings screen, set Auto-Check to "Manual"
Turning off automatic downloading of email has made my life noticeably more pleasant. At my computer, I can get caught up with looking at all the new messages and RSS feeds that appear…but at least when I'm away from my desk I'm less distracted.
Think auto-check or push email are difficult to escape from? Have trouble managing others expectations? Please post your thoughts in the comments.
Stumble or Digg are really helpful– :-)!
If you came from Lifehacker, you might like these posts:
And I'd certainly love if you subscribed to the blog (RSS or email), which is focused on productivity with technology and social media! Thank you so much for reading.


You should really subscribe to Technotheory via

email or rss.
---
---