For the last week I've been testing a new theme design on this website.  I hope it will make information easier for you to find, and promote a consistent look with my company's other websites.  You'll be surprised to learn how we did it.
(RSS/email readers, click here to see the design!)
Note: The 'we' I'm referring to is my team at SET Consulting.  A big thank you to Keith for the design and David for the development.  While we were inspired by many other blog designs, this theme was created from scratch (i.e., all modifications to the well-structured default WordPress theme).
New Purpose

The first change has nothing to do with the design.  I've simplified the purpose of the site to "You want to be happy and productive. With a slant toward technology, I try to help with that here."  I'll still occasionally cover DC technology and often discuss social media…but the core focus has been refined.
Organization Of Information

The main purpose of the redesign was to organize our information in a more relevant manner.  We hope you'll check out the "best of TECHNOTHEORY" and other sidebar elements.  I want to keep you aware of what I'm up to without overwhelming you with too much stuff—we hope this improves your experience.
Consistency Between Websites

Now all three of our websites use a similar color palette, and are tied together with the tabbed bar at the very top of this page.  While there are improvements ahead for all sites, we think this will help you to find a consistent (and maybe someday recognizable) brand.
Quick Thank You's

While there were many sites we looked to for examples there are a few I want to mention:
I love WordPress.  It's amazing what open-source software can do
Keith suggested making the first paragraph slightly more prominent based on a site he frequents, farfromfearless.  Here's an example there
A big fan of Chris Brogan, that's where I got the idea for the shaded face picture
Surprise: We Designed This In PowerPoint And Word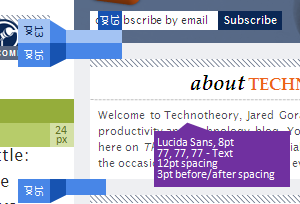 What you most likely wouldn't guess is that this entire site was designed in PowerPoint and Word.  We used PowerPoint for all the layout and graphics, especially in the sidebar.  We used Word for the typography in each blog post.  No, we didn't export any code from Office—that was all done by hand in HTML, CSS, PHP, or SQL.
So you probably think we're crazy?  Well, we consider ourselves to be some of the best PowerPoint, Word, and Excel designers and developers.  So we wanted to practice what we preach.  After all, our Microsoft Office design business has been on fire lately, with projects for Fannie Mae, NTT America, NIST, and other recognizable brands.
Do you want to know more about this?  Let me know in the comments and maybe I'll dedicate a post to the topic of Office design…
Any Thoughts, Compatibility Issues, or Suggestions?
We're very proud of this site but have some changes in store.  If we weren't so busy with other work we'd fix up the display of posts within categories and I'd add much more to the Lijit search functionality.  But that's not all that's on the wish list.
Is there anything you'd like to see?  Are you having any display issues?


You should really subscribe to Technotheory via

email or rss.
---
---