The headline's not meant to sound exotic.  The surprise for me was how much I've relied on technology and the web to plan the trip I'm now on.  I want to share some quick tips that have been surprisingly effective.
If you plan to travel domestically or abroad, I hope this will save you some money and help you travel lighter…while still staying connected (if you'd like). If you have other tips to share, I'd enjoy them, too!
Over the next 3 weeks I'll be abroad.  I'm writing now from Keflavik, Iceland.  On Monday I'll head to Barcelona, Spain.  That Friday takes me to Bangkok, Thailand.  And I'll finish the week in Kowloon, Hong Kong.  The temperature gets hotter in each place and I'll have some work to do, but this is mostly for fun.  Exact info are on Dopplr.  If you're in any of these places at the same time, drop me an email and let's get together!
I'm not going to pretend I'm the most well-versed world-traveler.  It's been a while since I've visited Europe and I've never been to Asia (well, does Israel really count?).  So I needed to hit the web.  The following are resources and tips that were not readily apparent to me when I first started.  I hope they'll help you!
Organizing With a Custom Map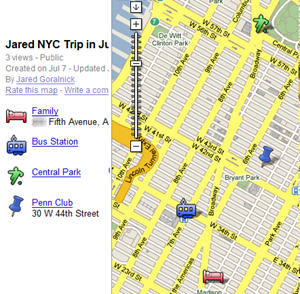 For various destination I've made maps (some to share with others, some for just myself) that outline where I'll be staying and where I'd like to visit…so as to get a feel for the transportation requirements.  I highly recommend creating a Google "My Map" in Google Maps by visiting maps.google.com and clicking the My Maps tab.  Then click Create New Map.
Search for a destination and then right click it and choose Add a placemark.  For more information on using custom maps in Google, visit the official user guide.
Finding Which Sites to Use
Maybe I'm exaggerating, but there appear to be tens of thousands of travel sites, and all of them are vying for a top ranking on Google.  So I skipped Google when looking for sites to use.  Many of my searches instead started on del.icio.us, so I could see, for instance, which hostel website was most popular.
Getting the Right Flights
After some research with del.icio.us, talking to friends, and using some of my old favorites, here are some tips for getting the right flights and spending a little less in the process.
Choosing a Place to Stay
I'm not going to throw out some panacea for a cheap hotel.  But here are some sites that might alter your approach for finding a place to stay…
Check your Facebook networks to see if you might have any friends in the area you could crash with (or at least hang out with) while in town
Dopplr is a good site for seeing if other friends are traveling to those destinations at the same time as you
Hostelworld is a good place for inexpensive hostels and hotels…and is a bit less expensive than the results you'd find on, say, Expedia (which I also used)
If you're really trying to travel on the cheap, check out CouchSurfing or the recently launched AirBed & Breakfast
Deciding What to Pack
Flickr.  I went to Flickr and searched for each city I planned to visit (this is an example).  Then I clicked on the link for "Most Recent."  This showed me a snapshot for how locals/tourists dressed in various circumstances
Weather.com.  If you type in the city you plan to visit and then choose a period of time in the future, they'll tell you the historical highs, lows, and other information
General Stuff to Pack
I'm not listing everything, just the stuff I chose after some time/thought/energy was expended.  I assume you can figure out to grab Woolite packs for washing your clothes, taking something that'll wake you up, ear plugs, locks, etc.  The only real goal for me was that I could fit everything (including my laptop) into one carry-on size bag
Tim Ferriss' Guide to traveling the world in 10lbs or less was very helpful.  Though I'm a little skeptical of the tiny towel I bought at his recommendation…  The best purchase so far has been my tiny Marmot windshirt.  (Take your pick they're all tiny and warm.)  I also have enjoyed my Kiva bag
At REI, I bought more nylon/polyester stuff than you could bat a stick at.  I chose this backpack (medium gray), Ex Officio underwear and pants, as well as a nylon dress shirt, some Teva flip flops, etc.  This alone paid for my lifetime REI membership (via the discount)
Where would I be without Zappos?  I was very happy to find a super light pair of shoes with which I could get in my morning runs and still wear with jeans/nylon pants
Geek Stuff to Pack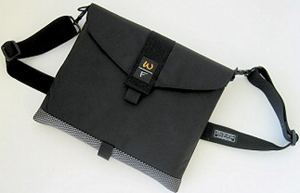 Your needs may vary from mine, but I plan to do some serious work on the road, since I have to help keep people moving at work.  Here were my picks.
Extra, brand-new laptop battery
Extra camera battery
Clipping my Kiva bag (above) to my tiny day bag, which is just a WaterField laptop sleeve
A power converter, of course. I went with this Belkin one
Quad-band, unlocked phone.  A good place to find one is on eBay and this site (which I attempted to use but they canceled my order, so don't order there at the last minute).  I ended up borrowing a friend's unlocked T-Mobile Dash, which I wanted since it has ActiveSync and thus also doubles as a calendar/contacts/task list.  Turns out T-Mobile will unlock phones you've had for a little while.
SIM card for each area – for phone or SMS.  I ended up going with one of Telestial's passport cards, but if you want to be organized before you arrive somewhere they have a huge list of SIM cards to purchase in advance here.  (I found this on del.icio.us, where it had been quite popular)
USB charge cables for my iPod and phone
Plantronics Foldable Skype headset.  It's a bit chunky and there are probably better models for portability…but the quality has been fantastic
And if you're curious, though you likely aren't buying these just for a trip, I took a small wide-angle Canon point-and-shoot and a 12" Dell XPS laptop.  (photos so far are here)
I'm going to write a follow-up piece to this about the software and tricks for traveling abroad (in the next week).  For instance, AwayFind has helped a lot and I plan to explain how.  You can subscribe via RSS or email to stay in the loop.
Got any other tips for planning a long trip abroad?


You should really subscribe to Technotheory via

email or rss.
---
---