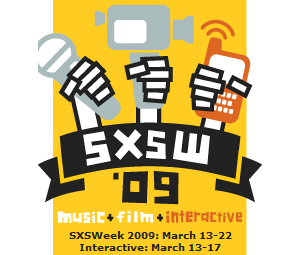 Last year I attended  SXSW Interactive, and I can't recommend it enough for entrepreneurs, web geeks, and anyone looking to be inspired.  Today I want to recommend some favorite presentations you can download.
I've also applied for one panel and been invited to participate on another for 2009.  Two minutes of your time could help win me a spot on stage!
SXSW Presentations You Need to Download
Soon after the conference this March I posted my reviews and highlights, but sadly most of the downloads for those presentations are still unavailable.  However, here are some favorites that are online as MP3 podcasts, one from 2008 and one from 2007:
Beyond the Blogosphere: How Online Talent is Being Developed Offline – this 2008 rockstar panel of Omid Ashtari (Creative Artist Agency), Damon Berger (Revision3), Brad King (thedudeman.net), Nicole Lapin (CNN), and Gary Vaynerchuk (winelibrary.tv) was packed full of valuable insight. Vaynerchuk was hilarious and there were questions and commentary with Tim Ferriss, Jeff Jarvis, Erik Nordby, Jim Louderback, and even Twanna Hines. This was a panel full of sharp people with conversation and insight to match it. [download the audio podcast]
Opening Remarks: Kathy Sierra – this 2007 presentation turned me on to Kathy's incredible presentation skills…and offered a great deal of insight about cognitive science, designing for real people (not just geeks), and cognitive science.  Most importantly, it's the kind of presentation that makes you think and is a pleasure to listen to [download the audio podcast]
Please Vote For My 2009 Panels
I'd love the chance to present at SXSW, and I may get the opportunity…but I need your help.  Please vote and, if you have 1 minute, leave a quick comment on one or both of these panels (just click on the links and sign in):
Need More Time? Gain 30 Minutes Every Day – Having trouble getting rolling with a fancy "productivity system"? Spend too much time in front of a bunch of pixels? Attend and you'll pick up immediately practical tech tricks and tools that will add time to your busy day. Bring your questions and ideas to this immensely useful session.  I'd be presenting solo on this one.
Presenting Straight to the Brain – Is there a way out of the oppressive PowerPoint culture that surrounds us? Yes: skip the fonts and graphics talk, and explore how the human mind learns. When you accept what the research says about the brain, you'll have no choice but to present a clear and compelling multimedia story.  I'd be on a panel with Kathy Sierra of Creating Passionate Users, Cliff Atkinson of Beyond Bullet Points, and Craig Ball, another rockstar presenter who's more memorable than me.
If you could take just a minute to vote and comment on either of these that would be awesome.  I'd love to see you in Austin in 2009!
Are there other panels for 2009 you'd recommend?  Feel free to drop a URL in the comments.


You should really subscribe to Technotheory via

email or rss.
---
---