The history, architecture and even cuisine come second when I'm traveling.  I want to meet people and learn through interaction.  But meeting people (especially locals) in distant cities had always been a matter of chance.
Today, social networks can stack the odds.  They made all the difference in my recent trip—and in this post I'll describe how (with some specific tips).
Most of my trip I was traveling alone, but through friends and with the help of Facebook and LinkedIn I met some great people.  I almost met others through CouchSurfing and Twitter (logistically things didn't work).  Next time I'll work on improving my Dopplr network.
But I don't want to just talk about the networks, I want to explain how to reach out…and why it works.  Put this all together and I hope you'll build some great relationships when you're out of town.
The Psychology of Distance: Why This is So Easy
Rarity + constraints make it easy to get together. Consider this: when you visit a city where you have an old friend, it's fairly easy to get together.  However, you likely have good friends living within 15 minutes who you see equally as often.  When something is rare (being in the same city) and there are clear constraints (just in town for two days) things work out more easily.
The same can be applied to people you don't know. If you can come up with a halfway decent reason to reach out to someone in the circumstances above, people will often make time.  I met with Ramit Sethi when I was in San Francisco, Tim Ferriss when he was in DC, and seemingly random people in places as diverse as Barcelona, Nashville, Reykjavik, Pittsburgh, Kowloon, etc.  People are receptive when there's rarity+constraints.  More later on what to say when reaching out…
Where to Find People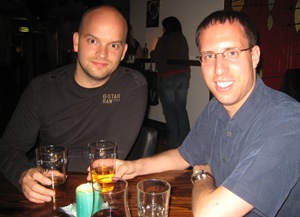 For starters, take a look at your existing friends on social networks.  You've probably "connected" with people you don't remember or know very well…who might be where you're heading.  Facebook, LinkedIn, Friendster, and MySpace all let you search your connections by geographical criteria.  (I wish Twitter let me search my Follows/Followers!).  Heck, also try searching your Contacts in Outlook/Gmail/etc (you'd be surprised what you'll find).
If you have friends (who you care for) in any of these regions, a trip is a good time to reconnect.  If you find that they're not in town then, ask if there's someone to whom they could introduce you. For instance, two of my friends were unavailable while I was traveling, but they introduced me to others who I met up with.
Then look for second-tier friendships.  LinkedIn and Friendster makes this easiest (but I don't use Friendster anymore).  So I used LinkedIn's advanced search.  I searched for people who worked in the "Internet" field in Barcelona, sorted by degrees of connection, and came across a friend of my buddy Jake's.  (If you're new to LinkedIn, then an advanced search by region (without any narrowing criteria) should still work well.)
If you're going at this completely cold (no connection with the individual or through someone else), look for people with shared interests.  I swing dance and I'm into productivity and startups.  I used LinkedIn to find tech people.  I found a discussion forum focused on swing dance in Barcelona.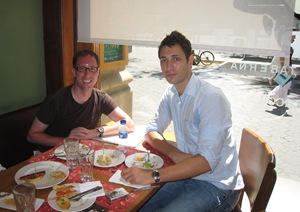 Still stuck?  Try CouchSurfing.  CouchSurfing is designed for people who are looking to crash on someone's couch while traveling…or offering such couches.  Or at least that's the idea.  What many people use it for is a way to connect with other travelers or locals when they're in foreign cities.
When I was in Hong Kong I reached out to one of the several dozen active people on the site there and received a response within an hour.  My logistics kept it from working out, but the knowledge of other accessible people around was comforting (I'd been stuck inside during a hurricane that day.)
Some other options to consider
Your alumni network on Facebook
Your alumni network through your university (most have them now, just ask)
Do you belong to any "groups" at home?  Whether it's formal like Kiwanis or informal like a knitting/pilot/Halo/book/LAN/rollerblading/whatever club, look for ones where you're going.  Everyone is curious of how things are different in other parts of the world (or country)
Dopplr is a network all about travel that I'm getting more involved with (it also offers great travel tips for many cities)
Posting where you'll be on Twitter, a blog, or in a Facebook status can often lead to random meetings, good travel advice…or jealous friends
Many conferences offer directories to attendees, and some of them offer city search functionality.  For instance, I could've looked up SXSW Interactive attendees by city; that would've led me to many like-minded individuals
Do you have a friend who's well-traveled?  That studied abroad in your desired destination?  Who was born there?  Ask for introductions!  Or at least for spots to visit…
If you try hard enough on your network of choice, be it Flickr, Facebook, Twitter, or even OKCupid, you'll likely find people interested in getting together.  You don't even have to say something creative…
What To Say When Reaching Out?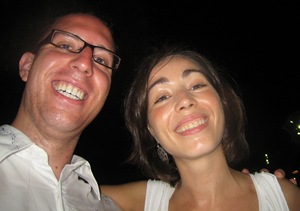 If you're familiar with the person you're reaching out to (you read their blog, follow them on Twitter, etc.) then mention something that caught your attention.  But regardless, just be genuine.  Tell them…
Where and when you're visiting
Who you are
That you don't know anyone there (or something to that effect)
That you share something in common and are curious how that is different in this city / are looking to learn more about their city / something generic about how you think they get it in whatever it is you're looking to learn about (My Obvious Point: if there's no reason you're interested in meeting them then there's no point in reaching out, duh!)
Confirm that you're somehow not a freak by sending them some sort of social proof (link to your blog or Facebook or company or mutual friend, etc)
Everyone I reached out to wrote back, including the ones with no mutual friend.  Perhaps it was the psychology at work above, perhaps it was out of courtesy…but we all seek out connection.  We're all curious.  And ties to different cultures are all the more fascinating.
Other Ideas for Meeting People…How about YOU?
There are things outside of technology and mutual friends that lead to meeting people while you travel.  Taking group tours, staying in hostels, going to certain bars, looking for the only person who looks like you in a crowded train… I imagine this stuff has all been discussed ad infinitum though in the past.  Do you have any tricks?
And how about the topic at hand: have you met anyone online while traveling?  Got any advice? Oh yeah, if you do any of the above, be careful.


You should really subscribe to Technotheory via

email or rss.
---
---