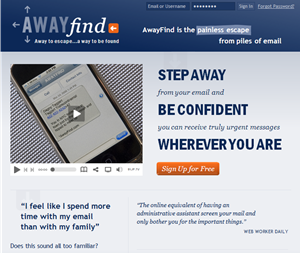 No open bar, VCs, or even a beta logo.  Just a web app that un-tethers you from your inbox.  Oh, and a dream shared by an awesome bunch of people.
Today we launch AwayFind.  It's time for a little retrospective…
The Short Version
AwayFind began as a side project inspired by The Four Hour Workweek, but it quickly morphed into the primary focus with my team.  Our goal has always been to help people to use technology as a vehicle rather than an obstacle for getting things done…and this was an opportunity to help so many more people at once.  If you haven't heard me go on and on about it for hours, this 90 second clip explains it, and includes a quick tour:
The Retrospective
Needless to say, we're pretty ecstatic to launch today.  I don't like the word "blessed" but I'm damn lucky to work with the team I do…

David, it's been fun to grow up together these last five years.  You now know more about browsers, Visual Basic, and a whole host of random Microsoft Office stuff than you ever wanted to, and you probably know every keyboard shortcut known to man.  Not to mention your crazy Wii skills…

Keith, your ability to transition your design to the web never ceases to amaze me.  That both the SET Consulting and new AwayFind homepage were designed in PowerPoint 2007 both shocks and inspires me.  If I could only have half of your methodical creativity…

Wayne, I've never before met someone who could walk through walls, but that's what it's like to watch you navigate code.  Your energy and discipline are unstoppable.
Okay, enough of the sap story.  But I should at least mention that some other people really stepped up to the plate at the last minute here: Scott Stead rocked the instructional video, Andre Pennycooke blasted thru the intro piece (above), and my favorite dancer/bookkeeper/marketing guru Emily S proved once again that she can do anything and everything.
Thank you, too, to Emily P for her design ideas, Kate for her disciplined writing, Clay for countless suggestions, and the dozens of others who helped out.
The Anticlimax
So this is the anticlimactic part where I realize I need an insane number of users if I ever want to make a difference (and/or pay for this).  If you want to spread the word, here's how (and thank you in advance!!):
Sign up for AwayFind.  It's free and you'll love it.  Don't want to use an auto responder?  Just place AwayFind's link in your email signature.  Don't have time for that today, the remaining are quick hits…
Help us look good—join our Facebook fan page and follow us on Twitter
Spread the word: tweet, blog, or send a link to your favorite journalist about AwayFind.   Don't send them here, since this post says little about the product, instead mention the homepage and the coverage we've gotten with…
People Who Have Been Kind Enough to Write About Us Today
(I'll try to keep this up to date)


You should really subscribe to Technotheory via

email or rss.
---
---