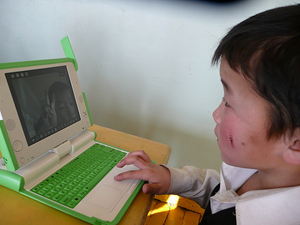 No matter what you do, online or off, your success will directly relate to the relationships you build.
I've gotten to know a lot of great people through the web, and the following are both observations and tips.
Today I'm presenting these ideas to an event at the Greater Baltimore Technology Council, so perhaps a video will be here shortly.
If you'd like a primer on how to find who you should be paying attention to, check out my recently updated Guide to Getting Started with Social Media.
The following six tips/lessons are from my own experiences.  Though they mostly refer to getting to know bloggers, they can be applied equally to anyone who has a public online presence.  Hope you find them helpful!
The web is an approachable community, not an intimidating new land…But you'd better be nice because people know each other here.
The number of people who write and participate online is really small.  That may not seem the case, but when it comes to the subjects and sites you're most interested in, after a few months you'll start seeing the same names everywhere.  And these people are approachable, too:
I was alone at a bar Saturday, waiting for my friends to show-up for a 30th birthday party.  The place was hopping, but I just found a corner and sat back—the crowd was intimidating.  It wasn't really my scene and I wasn't about to walk up to a stranger to make small talk.  There are few things I enjoy less than meeting people without a reason other than "well, you're here, too."
The web is nothing like that.  Any conversation online can be in the context of shared interests with people literally inviting participation.  Once you get used to the web community, it starts to make sense why some people are worried about the next generation never getting outside—it's really easy to meet like minds online.
But word also gets around fast, so be nice.  Or at least just be cognizant when you're talking about other people that many relationships exist between folks that you'd never expect.  This depth of bizarre interconnections comes up almost daily in my conversations…so I'm very careful now.
Stop for a second and ask yourself: what are you prepared to give?
It's not that everyone is keeping score, but when you're a total stranger there's not really a good reason for someone to get to know you or to want to help.  So it might be nice to consider how you want to give before you approach people directly online.
By giving, I don't necessarily mean money, traded services, or even introductions (those are traditional things to give in the offline world).  I just mean the value you're providing both specifically and in general.  A lot of giving online is about karma—helping the community at large by putting up a project that others benefit from, outlining your experiences, or sharing lessons-learned—much as I'm doing now here, etc.
A good place to start is by adding to other people's social proof and making the content on their site stronger—commenting on their site, submitting their site to Digg or StumbleUpon, etc.  A long term and more meaningful strategy might be interviewing people or writing reviews of other people's articles.
Just be sure to think long and hard about what you're doing for others before you think of what they can offer you.  Fortunately it's a lot easier to give online than it is in the real world.
Carefully choose the website you link to for yourself.  Have an agenda and action in mind.
When you leave a comment you have the opportunity to link back to yourself.  When you send an email you have the opportunity to link back to yourself.  In every profile online you have the option for a hyperlink with more detail.  Don't miss that opportunity to link to yourself!
But you need to think carefully about which link you provide.  Your link is the first step toward someone getting to know you, so you want to do it right.
I generally link back to this site when I have to choose one link, since this is where:
I can offer the most value to people, which also means that…
I paint a good picture of myself (I hope!), and I'm consistent (unlike Twitter, where I could be on some bizarre tangent when they make it to my page).  This also means they might take advantage of where…
There are specific actions people can take: subscribing to Technotheory, signing up for AwayFind, following me on Twitter, etc
So whatever site you link to, be cognizant of why you're choosing that link with the potential audience that will click there.  While it might be nice to promote your company's brochure website for 10 seconds, you want to hold people's attention, express that you offer value, and preferably have some sort of conversion or action so as to retain and build upon this new connection…this new potential relationship.  So a blog or site with more detailed information might be a better bet.  Just think through it : ).
Comment long.  Comment pithy.  Comment short.  Comment.
Given the choice between commenting and not commenting, assuming what you have to say is positive or constructive, you should always comment…even if it's just a sentence or two.  Most bloggers don't get many comments and really enjoy the social proof you're providing.  And even better if there's some depth to the comment.
If your comment is critical, be thorough.  Comments like "that sucks" are just wasting space and making you look bad.  You can be critical, but express yourself articulately or you won't be taken seriously.
If you want to build a relationship with a blogger, you should leave some substantial comments and come back every once in a while, even if you're only leaving short comments much of the time.  Continual presence will be felt…and then you'll have an easier time reaching out directly.
Reach out to people directly.
Email is a great way to start a dialogue or introduce yourself.  But I'd suggest that you be helpful rather than asking for something, initially.  Even thanking someone for a really great post is a way to reach out.  Just be sure that whatever you write has some personal substance to it.  If you're taking someone's time, be sure it's worth it.
Another great way to reach out is to answer questions someone asks on Twitter.  @'s or DM's are both okay.  Once again, be pithy rather than "great job, totally agree."  Bleh.
Then if you can and have a reason to, schedule a call or (as with the last point in the heading below) find a time to meet up.
There's nothing magical to say about this, but it is the most important step here.  If you don't reach out to people before you need them…well, you know the rest of this story.
So you might be thinking, "well, how do I know who to reach out to before I need them?"  I'll be honest here: I hope to get to know everyone personally in the personal productivity space.  I've had a great time with nearly everyone in that community I've met and I don't have an ulterior motive in mind.  I have a lot of folks in many spaces I hope to keep up with…and if you go through the steps in my guide to social media, you'll probably come up with people worth paying attention to, too.  Perhaps someday I'll need something, perhaps not, but it's obviously wise to have friends in the spaces where my blog, my product, and my customers exist.  It's not that you should cherry pick your friends before meeting them, but the people in your related fields are a good starting point.
Meet with people in the Real World.
The best way to add depth to relationships is to meet face to face.  Keep a list of where people are located, and/or what conferences they attend.  Then, when you're going to be at the same place, reach out.  Or in lieu of the list, when you're traveling at least check Facebook or LinkedIn's network search—that'll get you 80% of the way there, assuming you've been friending folks as you've gotten to know them.  There's something about the rarity of an occasion that makes people particularly receptive to meeting up in faraway places (but hometowns are better than conferences—as people will have more time).
As a side: In the next 3 months I've got trips to Madison, NYC, Austin, Boston, San Francisco, Kowloon, and Tokyo.  So now you know: if you're keeping tabs on me from those cities, now's your chance to reach out!
I hope some of these tips can help.  If I get a video from today's talk, I'll let you know.  In the mean time, do you have any advice for getting to know people online?


You should really subscribe to Technotheory via

email or rss.
---
---