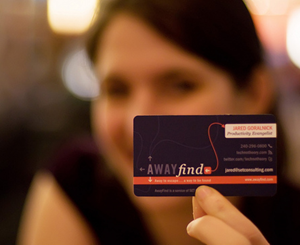 I'm overdue for a post about AwayFind, but rather than type it out, here are some updates via Thursday's interview from Robert Scoble and the week before's with Greg Cangialosi.
Below I've indicated the timestamps for when AwayFind, email productivity, and Bootstrap Maryland are discussed…so you can dive right in.  After the videos are also some recent links, like being in Gartner's 2009 Cool Vendor Report : ).
Robert Scoble Interview on Scobleizer TV
00:30: Continuous Partial Interruptions
1:31: Difference between AwayFind and the Vaynerchuk/Ferriss approach
5:30: What I'm working on for the future—understanding different channels
6:55: What sucks about Twitter and lack of chat, being used for support, etc
11:17 Bootstrap Maryland discussion
Note: After this interview, I was also on air for a longer discussion with Robert Scoble and Dave McClure.  It was an excellent discussion of the state of the venture market (mostly just Dave sharing, because Dave knows it better than anyone).  Robert's blog post and video are here.
Greg Cangialosi Interview on Blue Sky Factory TV
11:30 My interview starts
16:20 How to better manage when we check email
21:00 I explain how I go through my day
30:45 Bootstrap Maryland discussion
48:15 My interview ends (stay on for email marketing tips)
AwayFind Around Town
Thank you to Robert, Greg, and the other folks who were kind enough to speak with me and review AwayFind.
–
We'll soon be back with our regularly scheduled programming, like an upcoming post on "Action Tweeting" : ).  Cheers!


You should really subscribe to Technotheory via

email or rss.
---
---