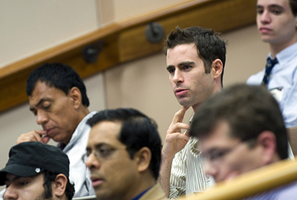 The first Bootstrap Maryland conference was a success!  Over 200 people spent their Saturday discussing how to build and market a young business.  Their enthusiasm and acuity were electrifying.
The following are some of the key points that came up in the sessions.
First of all, thank you to so many of you for coming out and sharing your ideas!  I've never organized an event of this magnitude, and you've encouraged me that it was worth it.  I just hope a few people got a little push toward starting and succeeding in business.  Now, onto the panels…
What you need (and don't need) to get a technology business started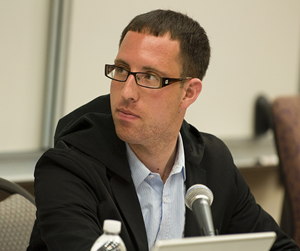 In this first session, I moderated a panel with Greg Cangialosi, Scott Harris, Haroon Mokhtarzada, and Paul Singh.  We discussed some of the lessons picked up over the years in the several business endeavors we've been involved with:
A business plan helps to get you thinking about where you're going with your company, formalizing your thoughts, etc.  But most of us have had to change direction within 30 days and, at that point, the business plan often began to collect dust.  Key point: think hard about starting your business, and write out your overall strategy, but don't get mired in the details of a fancy schmancy business plan.
It's important to cover your ass(ets).  But doing that right isn't that important until you've proven that your idea has legs.  In other words, if you have a product you want to launch, worry first about getting a prototype and later about whether an LLC, S-Corp, or C-Corp is more important.  After all, there's no shortage of lawyers who can change your business type later.
While your legal status is not that important initially, it is important that you discuss ownership with any co-founders early on.  You need to get in the habit of having these conversations when the money isn't already on the table.  Whatever you do with equity, just be sure that other team-members have to earn their equity rather than starting with it…otherwise underperformers can ruin the distribution of equity and create a difficult situation.  This is called vesting.
Don't assume that you have a market.  Spend serious time talking to your perceived market and showing them what you plan on creating.  You'll learn very quickly that either the product you want to create or the audience you want to sell it to aren't the best options.  That's okay—let yourself fail in your assumptions early and instead continue to validate both your product and the market as you move forward.  Read Eric Ries' blog for a continual reminder and tactical advice on this.
Paul Singh talked a great deal about using Google AdWords to test ideas for just a few dollars.  See if the conversions are there by testing if people are interested in your ideas.  If they're not, move on.  I mentioned another way to research markets is to take the first few days of the 30 Day Challenge where they teach about using Google's market-testing tools with Market Samurai, but do it with a disposable email address.
You don't need to have $25,000 in the bank to start your business.  None of us had that in our first ventures.  The best time to start a business is not when you have lots of assets but when you have fewer liabilities.  So if you're in your 20s that's probably a damned good time.
Haroon Mokhtarzada made the point that enterprise experience rarely translates into startup expertise.  So don't worry about having a background in a big company or hiring people from that background.  Instead, focus on being scrappy and finding others with that mentality.
If you're building your business while working for another company, be sure you know whether your current employer has ownership of what you're working on.  Often there's a clause in your employment agreement to that effect.  Be careful!
How to market inexpensively with social media, events, and creative public relations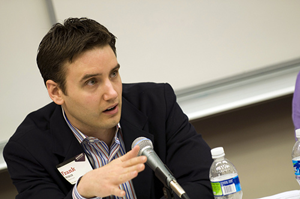 Energetically moderated by Mario Armstrong, this was a fun session with Aaron Brazell, Peter Corbett, Frank Gruber, and Kaitlyn Wilkins.  They talked about what to expect with marketing and how to do it through social media and other channels.
Peter Corbett set a great tone for the session when he pointed out that social media is not free.  It's a huge time commitment and, without that commitment, it's just throwing time away.  But when done right it can be rewarding.
If you're a great writer, write.  If you have great presence, speak.  But learn your strengths early when it comes to spreading the word and play off those strengths.
Niche.  Niche.  Niche.  Differentiation.  If you're not differentiated you're not memorable.  And if you're not memorable you're already forgotten.
If your brand is all about solving a specific problem that's a good start.  But if your brand is about a bigger idea, a cause, a lifestyle…then people will have a reason to come back to it, to hold onto it, to engage with it.
While marketing is great, nothing happens if you don't make a sale.
Sorry, I had to run around organizing lunch stuff during this session so my notes are more sparse.  Check out Russell Heimlich's and Justin A. Brown's notes.
Workshops and exercises in small groups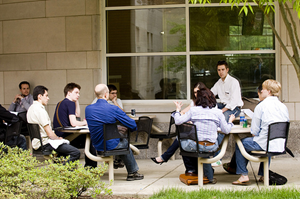 Tim Grahl and I organized breakout sessions where the 16 groups discussed their own businesses and the various revenue models of eight TechCrunch50 finalists (as a case study). 
While it's difficult to capture that online, it's important to explore and be familiar with various product-oriented revenue models.  The following links explain each of the models in more depth:
Getting your technology right…and what people are using to develop today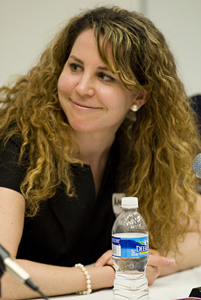 David Troy led the next panel, which was about understanding certain key ideas around technology…especially if you're planning on launch a tech company.  M. Jackson Wilkinson, Mike Subelsky, Amy Senger, and Andrew Turner shared their insight:
One of the most important points discussed was understanding the differences between a programming language (the most flexible), a framework, and a content management system (CMS) (the fastest to deploy).  As a business owner it's important to recognize that flexibility and speed of deployment are inversely related.
Along the same lines, it's important to recognize some of the most popular frameworks and to ensure that your development team is familiar with them so that they're not reinventing the wheel.  Examples of popular frameworks include Rails (for Ruby), Kohana, Symfony, and CodeIgnite (for PHP), and Django (for Python).  If your team is developing in one of these languages, be sure they're aware of the frameworks out there.
There was a great deal of talk about when to use agile development methods and when not to.  Given the audience of my blog, suffice it to say that if you're leading a team of developers it's important to be up to speed on agile so that you can make decisions for when it's most helpful.
A couple salient points came up in relation to hiring tech people:
1. Communication skills and initiative are as important as technology skills.  The best programmer in the world that continually builds the wrong features (and doesn't suggest alternate ways to approach things) will get you nowhere.
2. When choosing between open source and proprietary development environments, it's important to consider what type of culture you're looking to foster at your office (I'm still debating this one in my mind as my personal experience refutes it)
Introductions to local groups and events
The following groups presented.  Visit their websites to learn more.
Success stories and lessons learned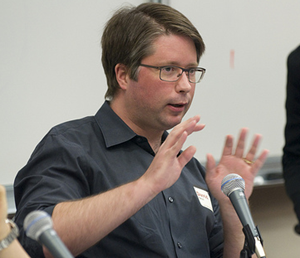 Matthias Broecheler, Martin Ringlein, and David Troy shared their mistakes and talked about the different forms of entrepreneurial success in the final panel, which I moderated. Some of the topics discussed:
Martin Ringlein spent some time discussing the different definitions of success, and how we all have to understand the importance of impact, family, lifestyle, and money.  For instance, if you work until midnight every day but don't get to relax, have you truly achieved success?  Needless to say, I blog about this a lot, but the point of balance is not just for happiness…it relates to our core opinion of our own success.
We all talked about the merit of having service-based businesses, especially when getting started.  For one thing, one can become cash flow positive in a service business right away; for another, one will learn very quickly what customers want when they're working directly with them.  And of course, having a service business is a great way to bootstrap the building of a product company (that's what I've done with SET and AwayFind).
It's unfortunate that geeks often get the impression that they need people with a business background to launch a company.  They absolutely do not.  It's much easier to teach a geek about business than the other way around.  This is proven time and again in the most visibly successful companies, large and small.  kthxbye.
Doesn't matter how big your company is or how much you formalize the process, you need to talk with your employees one-on-one to discuss each other's performance at least twice per year.  It will get a lot of information out into the open that you might not expect.
If there's even an ounce of negative emotion in an email, sleep on it before you send it.
If you're in a family business, draw very clear boundaries between work time and personal time
If you have a business process and you decide to take on a project with a friend, don't bend the rules or you'll slip up.  Follow the same business process when dealing with a friend as you do with clients.
Whenever possible, avoid taking credit cards.  The reason: you'll never win a fight with VISA.  (This is especially relevant with high dollar transactions with people you don't know really well.  Less important for low-dollar transactions)
If a project is still holding you back, and you're a tech person, consider turning it into an open source project (if you have the time ; )
And for the next steps:

Write down all the things that are holding you back.  Are these surmountable?
Do your best to be around (virtually or in real life) the people who are where you want to be.  You'll soon find yourself there.
In Conclusion
It was a rockin' day with a good vibe and great ideas.  Thank you to all the speakers, small group leaders, sponsors, and of course the University of Maryland for making it all happen.  When I have them I'll either post or link to the videos.  But in the mean time, here are the photos from me and Bobby Saini (we shared my camera, and he took most of the photos shown above).
Thank you and hope this all helps : ).


You should really subscribe to Technotheory via

email or rss.
---
---