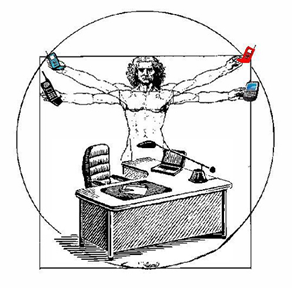 After a few days at a conference focused on project management, I no longer think I've got it bad: I met someone last night who receives over 1000 emails every day.
Fortunately there are still people fighting the good fight.  The following are clips about the current state of information overload, as well as possibilities for the future.  And don't miss the Information Overload Research Group's upcoming conference in September!
First, the conference.  I had a great time at the Information Overload Research Group's inaugural conference (my lessons learned).  And now the next one is being held at the Palo Alto Research Center (PARC) on September 13 and 14.  I'll be moderating a panel on email solutions, and there will be a host of great speakers and ideas.  Check it out here.
Now, onto some videos.  This first outlines the problem of information overload with  interviews from IBM, Siemens, Network World, the European Patent Office, Research in Motion, and others.  If you're looking for excitement, you won't find it here…but this proves the point about the problem of Information Overload at big companies.  Kudos to Basex for putting this together:
On a lighter note, I want to share with you a video of how Microsoft looks at the future of productivity.  It's not just addressing information overload, and it's worth a look:
I'll keep fighting the battle of overload myself, particularly the filter failure issue that Claty Shirky brings up.   How about you, have you come across any great tools or technologies to combat the ever-present digital overload?


You should really subscribe to Technotheory via

email or rss.
---
---