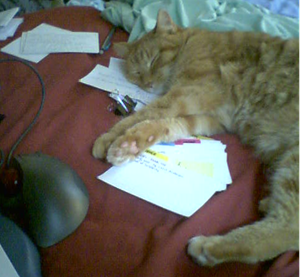 Happy Monday.  We're 7% through the year–are you 7% through your goals?  Let's make this happen together.
Tomorrow at 6pm EST, over 300 people will phone in to Jason Drohn and I go through the top seven productivity killers—and offer solutions.  It's free, too.
I've been delivering productivity training for 8 years now, but never remotely to a completely open group. So it seemed like a fun opportunity to try it out, do it for free for a lot of people, and make it really really practical.
–> You can sign up here: Productivity Killers Sign Up – not sure what the attendance cap on the line will be, but I think we're close to that limit, just fyi.
The content of this talk will have a bit of overlap with what I delivered at WordCamp MidAtlantic (Baltimore) and TECH Cocktail Conference (Chicago), and it may go through many material on the blog.  All of the content will focus on immediately actionable steps.
Examples of some of the productivity killers Jason and I will discuss include: interruptions, social media, email, meetings, and web ADD.
If you get to the site and see a sales page, don't worry, I wouldn't be leading you astray.  This is going to be my content and I believe it'll be worth a listen.  Sign up here: Productivity Killers Sign Up.
If you can't attend the session and you sign up then you'll get the audio recording sent to you after the call.
Go have an awesome week, and I hope to catch you at 6 tomorrow.  If you have questions you'd like me to address on the call, feel free to leave a comment below.


You should really subscribe to Technotheory via

email or rss.
---
---