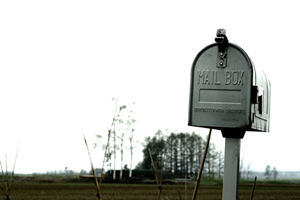 We should receive all forms of mail once per day.
Can you imagine a world where the mailman would show up a bunch of times each day?  Where weekend activities were interrupted by bills and packages at various times?
Sounds foreign…and kind of annoying.  But that's email.  And that's what's wrong with it.

The Postal Service (USPS, not the band) got it right–interruptions should not come throughout the day unwelcome; they should come once, and as predictably as possible. If we all were to check our email less often, we'd all be a little more sane and a lot more productive.
Today is the first day I've checked my email (both work and personal) twice: once just before lunch and once at 4:00. I haven't decided yet how to treat the evenings…but I will say that today's been one of the most productive days I've ever had…but let me qualify that, I didn't have a single deadline today, nor do I tomorrow or Friday or Monday. I've gotten this much done in a day before, but never with so few responsibilities breathing down my neck.
My motivation for this comes from a number of sources. First, Timothy Ferriss' prescriptive and challenging new book, The 4-Hour Workweek explains the many merits of checking email less and offers a series of approaches for making you successful with it. Second, I needed it: the more people and projects I'm working with, the more communication it mandates with clients and employees. This sort of project management wasn't the only thing I was doing, but it came up so many times during the day that it'd become virtually impossible to focus on the real stuff: the projects that require time and focus (and really where my energy should be).
I don't know that I can keep up this habit, and I haven't nailed down my exact approach yet (for example, I'd like to be able to send email even if I'm not checking it and how to do that's not super easy when using Offline Mode on an Exchange server). I also am not sure if I'm going to clear my inbox to zero and rely much more heavily on my calendar as I've been trying. All I know is that I was focused all day today and I pushed out a lot of projects. And, at two times during the day, I managed to read and reply to all my emails–batching, as the GTD folks would say. Strangely in a mere 25 minutes I went through 30 emails and had a completely empty inbox.
I'm going to keep writing about this. I could tell you more about my approach but I need to see if I can make it stick first. Thank you, Tim Ferriss and Merlin Mann, this stuff can really work. It's not about working faster…it's about giving yourself time to focus when you really need it.


You should really subscribe to Technotheory via

email or rss.
---
---