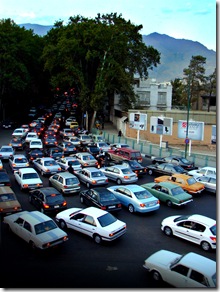 If you fill your iPod with a diversity of audiobooks and podcasts then you'll be a far less stressed individual…when you find yourself waiting or stuck. This isn't a revolutionary shazam productivity tip–it's plain psychology: when you feel you're wasting time, doing something seemingly productive (like reading/learning) will not only pass the time but quell the desire to accomplish.
I'll admit it, I like productivity for the sake of productivity–I'll put off folding the laundry until I'm on the phone with a friend. But there's more to it: when I'm stuck in traffic or waiting for a train, especially during the business day, I get frustrated that I could be doing something more useful. That's where audiobooks and podcasts enter the picture: they make me feel I'm using my time more wisely. I love music, and sometimes prefer it, but I'd recommend having some good podcasts or audiobooks handy. Many tips and download recommendations follow…
You can easily subscribe to a dozen shows, ranging from news to education to comedy (new to podcasts, just click here [free Podcasts downloads in iTunes] if you have an iPod)
If there's a book you're interested in, you can likely grab it from Audible.com inexpensively (with this link you can download your first read free)
If there are conferences you missed, see if the speeches have been made available (talk about a great use of your time + a big cost savings!)
Short of carrying an expensive Kindle, it's difficult to carry more than one printed book…but one MP3 player will handle many books and podcasts
Consider for a moment whether you have a variety of shows and books at your disposal on your iPod. Be diligent–have shows for different moods and synchronize every day. The key isn't just to have some shows, it's to have stuff that you want to listen to when you need it.
When I was stuck in traffic tonight, it helped to have This American Life playing. Some of my favorite things to listen to (I don't do mobile video …but feel free to leave a comment with video recommendations):
I hope this inspires you to get some audio ready for you whenever you have a commute or a big trip ahead. It makes for a good use of a time. What do you do when you're stuck waiting? Any recommendations for great podcasts or audiobooks?
Photo credit: Hamed Saber


You should really subscribe to Technotheory via

email or rss.
---
---