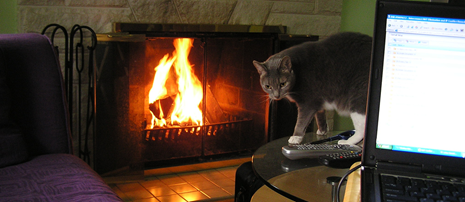 Three quarters of the meetings that "merit a face-to-face" really don't. It's not "telecommuting" (that's so 1997) and it shouldn't even be called "working remotely"–it's just WORKING. I'm putting my foot down and removing any distinction. Working from home has greatly improved my business, my sanity, and my life. So I'm opening up the kimono here on my tools. No, you don't need to come in, you can read this from anywhere in the world.
Why Work Remotely?
Feel free to skip this section if you're looking for the meat of my article. I could go on all day, but here are a few reasons to work remotely:
Fewer distractions, more stuff gets done. Things take less time when you're not being constantly bothered. If working at home would have distractions, consider another location: a coffeehouse, library, study hall at a university, friend's conference room, etc. The gist is to work somewhere with fewer interruptions
Commuting, the earth, blah blah. I just spent $65 filling my gas tank. It costs me $12 every time I show up for a two-hour appointment in Baltimore, 35 miles away. This does no good for my wallet, the environment, or my sanity (why the heck drive 30-90 minutes just to show up for a few hours?)
Health. Instead of driving to work, I run in the morning. I eat my breakfast & lunch at home. This is so much better for me (and my dog)
Mobility. If I want to travel, the office doesn't fall apart. I can work wherever I want and get stuff done. Since remote working is the norm, if someone's out of the office nothing slow things down (as opposed to the usual office dependence on coworkers in the next cubicle)
These next couple are more for the employer, but I'll throw them in:
An hour worked is an hour billed. At a typical office people may check in at 9 and out at 5:30, calling it an 8-hour day. However, fewer hours of work actually occur. When people work remotely, things very quickly become about the actual hours worked or the projects completed since they're willing to own up to distractions caused by their remote environment
Recruitment / retention. As an employer, I know I've gotten really lucky with some of my folks. While I think we take on pretty interesting projects, I know that they love being at home with their kids and don't miss their earlier years spent commuting. At least at this point, my offering (of very little required time at the office) is a huge selling point…and helps me to find hard-working, independent, and often otherwise unavailable talent
I could go on, but you probably already know the benefits of working remotely, so the first step to making it happen is:
The Key: Say What You Mean
What, you thought I was going to start with a tool? Wrong: the reason most people want to meet in person is because they don't communicate clearly or concisely (but in person one can stumble through things a bit more easily). So let's start with a primer on communication:
Be damn specific. When you want someone to capitalize "capitalize the product name," tell them "On S:\files\important report.doc, ensure that ABC Company has consistent capitalization (ABC and a capital C) throughout the report…right now about half the instances of Company have a lowercase c"
Don't hit Send until you've read it through. I got an email yesterday from a software developer who said, "Alright… another round of tweaks in addition to some improvements to the behavior." Um, WTF? Was that a statement or a question? Was he done or about to start the next round?
If you're unsure what to report, try this formula: (a) what you did, (b) what you have left to do, and then (c) what's you need the recipient to do. The email above should have said, "Jared, I've finished all the requirements from your email on Apr 27 (see it below), but I still have to tweak the graphics to match Keith's images. I believe it's ready for your testing."
Okay, now that I've got that off my chest, it's time to spend some money to save money and a lot of travel time…
Screen Sharing
It doesn't matter whether or not your business is technology, looking at the same document with whomever you're working is invaluable in many circumstances. Everyone reading this article in an office (or working from home) should have quick access to a screen-sharing utility. On a near daily basis I use screen sharing for the following:
Brainstorming – why take separate notes when we could edit the same file live while looking at the same window? It's like having a whiteboard…only this whiteboard can be saved immediately afterwards and emailed to both (or many) of us. Screen sharing is actually easier than manning a whiteboard because you can type faster, see more text at the same time, and everyone gets a perfect view
Editing – similar to brainstorming but with a focus on improving a single deliverable. This usually takes place with us in the early or very late stages of working on a project, since the majority of our work is done independently
Demonstrating – whether it be demonstrating a problem or pointing to what one person is seeing, it's much more useful to see a screen live than to take a screen capture or attempt to describe it
Technical support – even better than demonstrating, with screen sharing we can actually solve the problems….and this can be much faster than trying to communicate the solution through email (especially given the notes above about communication)
Keeping a conversation on track – Seeing the agenda right in front of us helps to keep focused on both the items and the clock
I've used Citrix GoToMeeting for years, and would recommend it to anyone with a PC as their primary vehicle for communicating. Mac users can view your presentation but cannot share their screen. At $50 per month for up to 15 simultaneous viewers and phone calls, it pays for itself in just a single use at my company.
Other tools to consider for screen sharing include VNC, Apple's iChat Screen Sharing, Microsoft's Live Meeting, and WebEx (they now also have a product that competes with GoToMeeting called MeetMeNow).
Skype Video
Still want a face-to-face meeting? Make it happen via video. Everyone will soon get more comfortable with video conferencing, so jump ahead of the curve. I like the quality and audio controls with Skype's video. Free isn't a bad thing, either. I use a Logitech QuickCam Pro 9000 with my desktop (or the built-in camera on my laptop). To improve the voice quality I also use the Logitech DSP 500 headset, which has been replaced by the ClearChat Pro USB.
I've used the video capabilities from my home office to have near perfect video quality with folks all over the US, as well as Iceland, Australia, Malta, England, Pakistan, India, etc.
A few quick tips for using video:
Use a headset to get much higher audio quality – speakerphones rarely sound good on a land-line, and the situation hasn't changed with a digital one — so use a headset
Place the other person's video window right below your video camera. - this will make you appear to make eye contact. Request this of your other party if you can–it'll make for a much more personal connection
Know what you have behind you and zoom appropriately - look behind you to remove anything embarrassing. If it helps, adjust the zoom on your camera to see more of you and less of your surroundings. If your bed is behind you and you have a client call, consider relocating to a room with a more staid background
Practice with a friend before your first business use – in addition to the fact that you'll probably have technical issues to resolve, it takes adjusting to get used to video conferencing. Get comfortable before you have an important need. You don't want to scramble and then feel nervous. Remember, video conferencing is a way to bring people closer, not just cool technology…but you have to be comfortable with it or it won't be helpful
Infrastructure Tools
I could talk all day about the merits of remote file servers, mail server setup, and project management tools…but I know that many of you reading this don't have the luxury of changing the way your company carries out its business. I will however point out a few of the tools that help my team to work remotely:
37signals' Basecamp – this runs our business. From project management to file management as well as wikis ("writeboards") and time tracking–we rely on Basecamp to stay on top of each other's responsibilities when working remotely
Subversion (SVN) – we're geeks so we use SVN for the version tracking of more involved software projects…as well as our flagship product, AwayFind
Hosted Microsoft Exchange – we use NTT America's Hosted Exchange product, which helps us share calendars, use ActiveSync and BlackBerry devices, and archive all our email with VERITAS Enterprise Vault (disclosure: NTTA is a client)
Google Apps for your Domain – while I don't use it for SET Consulting, I do use Google Apps with my personal accounts and find its filter and search capabilities to be nothing short of amazing. (more about Google Apps for your Domain)
GotVoice, virtual receptionist, or a VOIP-based phone system – we use GotVoice to transcribe all our voicemails and then email them to the appropriate employee. Other organizations that are more intensive (my company mostly relies on IM or Basecamp rather than the phone), would likely be interested in a VOIP solution to help direct phone calls. Another option would be many of the virtual receptionist offerings out there. Locally I know many people who use Intelligent Office, but there are many other versions of outsourcing a receptionist that offer varying degrees of service and quality
Returning to Communication
You may have noticed a theme –most of what I've mentioned has related to simplifying communication from afar, making it more like face-to-face conversation. These tools plus a little more conciseness in email & IM will lead to better communication. And by better communication, it can very well be better than in-person dialogue (less chit chat, more documentation, and all the reasons expressed above).
Hopefully this'll set you down the right path to working away from the office. Any tips or products you'd recommend?
Flickr photo credits: DDFic and basykes


You should really subscribe to Technotheory via

email or rss.
---
---