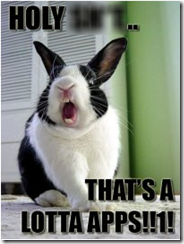 A couple years ago most people stopped emailing chain letters and jokes. The people I'd fallen out of touch with never sent job listings. But now social networking has brought us a whole new generation of spam.
A word to the wise: just because I accept your friend invitation doesn't mean that you should bug me with junk you'd never have emailed. Networks may make it easier to message people, but please show a little restraint.
My most recent frustration comes from a Facebook application invitation that went like this:
"So I found a time-wasting app on Facebook that has gotten me addicted. As such I'm harassing each of my friends once to make some extra money. Sorry for any inconvenience, and thanks. :-)"

Sigi wants to buy you as a pet! Find out how much you're worth and meet pets close to you!
Do I have or care to have any clue about this? Nope. Did he really send this to me and his 554 other "friends"? Yep.
On a near daily basis I also get LinkedIn notifications like "Can you recommend someone for this job: Senior Pastry Chef at ABC Kitchen." No, I hardly know you and I'm not looking to make my inbox into a job board, thank you very much. If you really thought I could help then send me a real email and personalize a few sentences. No, I don't know any pastry chefs (well, my grandmother's not looking).
In response to questioning my friend about wasting my time, he indicated:
I consider getting dozens of often unwanted app invites part of being on Facebook.
No. I consider being courteous and not spamming people part of being a friend.
LinkedIn and Facebook can be really helpful vehicles for re-igniting relationships and keeping in touch, but they shouldn't be used for mass mailings. People can turn off notifications and block invitations…but if you're not adding to their lives you're just taking away their time. So please:
If you wouldn't email it, don't send it over a social network
Choose your recipients wisely
If you really want to get people's attention, make them feel important
When I opt-in to a friendship it isn't to spam. Am I alone here in wanting our "friends" or "connections" to use a little restraint?
Flickr photo credit: Andrew Currie


You should really subscribe to Technotheory via

email or rss.
---
---