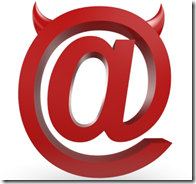 Most people don't own their email's domain (i.e., the part after the @ symbol). Many exclusively use an email address that was provided to them by their internet service provider or place of employment.
This is a wake up call: don't wait any longer to own and control your email. Here are some scenarios that may fit you, and how to fix things.
Company Email Is Subject To Big Brother
Nothing wrong here, if it's for work. Otherwise it's a seriously bad idea. You probably know this by now, but to stress the point:
Your employer owns your work email
Your employer could very well be reading your email
Your work email may be stored and fully searchable; for instance, all of my employees' email is backed up and fully searchable, attachments and all, by me. It doesn't matter what they delete. Many organizations have a similar policy–some for legal reasons, some for just-in-case scenarios
If you leave your work or get fired, no more email for you
ISP Email Is The
Wal

Kmart Of Email

It looks unprofessional and doesn't feel so good. Do NOT use the email address provided by your internet service provider (ISP):
What happens if you move or switch internet companies? Think how difficult it is to change your credit card numbers everywhere–now multiply that by 100x.
It's somewhat unprofessional (sorry, many people notice these things!)
Do you really trust your ISP? If something ever went wrong, would you see them on your side of a subpoena?
The user interface is subpar
The spam filtering is subpar, and you may encounter issues receiving email (I'll save the explanation, but feel free to bug me in the comments)
The storage available is subpar
College And Alumni Addresses Are So 1999
School addresses will disappear very quickly. It's so sad to have watched all my friends in college lose their email addresses when it could've been so easily avoided.
Even worse, some of my classmates opted to use their University of Maryland alumni email addresses since those were designed to forward to whatever email account you used. Big mistake–the school decided to re-brand from terpalum.umd.edu to something else, Perhaps you trust your alma mater more than I do, but if you don't own your email address, there's no way to know what will change.
Gmail, Yahoo, & Windows Live: Do You Want This Brand For The Rest Of Your Life?
Major webmail providers aren't so bad. For many people they may be just fine. Just remember a few things:
You don't own your email with these web providers
If you use the free version, there's no guarantee whatsoever that your email will be available at any time or not completely deleted
While more professional than using your ISP, it still could be better. Remember, you're probably operating under the assumption that you'll use this address for the next 20 years–is this the brand you want to be affiliated with for all that time?
Again, I'm not against webmail providers. I just think it's worthwhile to…
Do It Right: Own Your Email With Your Own Domain
If you own a domain you have the most flexibility, professionalism, experience, and control with your email. While not everyone wants to invest the $7-10/year, I consider it worthwhile:
Your email looks professional (or, if not, it's your own fault). For instance, on my resume I use jared at goralnick and that looks pretty nice (.com removed for spam bots)
You can still use Gmail to host it–getting the best of both world's — their interface and your domain, free!
No one can ever take your email address away from you–it's yours for life
Your email is as secure as you want it to be
You can use any email application that you'd like to manage your email
You can have an unlimited number of email addresses at that domain–either for your family or even for different purposes (blog@yourdomain.com to keep track of people who came from your blog, for instance)
How To Make It Happen
Find a domain. Poke around on your favorite registrar (many people like GoDaddy.com, I've been using mydomain.com) and buy a domain
Choose an email hosting service. I recommend Gmail, as I mentioned above–but any web host will do at first (since spam won't yet be an issue) (note: for inexpensive hosting, I use hostgator.com)
Notify your contacts of the new address. But no need to do it right away, get comfortable with your new email account at first. You don't need to cancel your old one immediately, if at all
Forward your email from the old account to the new one, or set the new one up to check the old one's messages. At least for a few months it's helpful to get the old email in case you miss a bill or an old friend reaches out. Fortunately you should be able to set it up so that all your email goes to the new account automatically
I've watched so many friends lose or change their email addresses because of one issue or another. Don't fall victim to that. If you have any other ideas or disagree I'd love to hear your thoughts.


You should really subscribe to Technotheory via

email or rss.
---
---