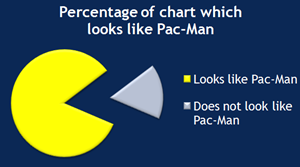 I'm getting mighty sick of events restricting the use of presentations just because some people suck with PowerPoint. Visuals add a great deal to speeches, and it's not that difficult to use them more effectively.
I've recently spoken at two events that outright rejected the use of PowerPoint. They claimed it reduced participation, increased presentation times, and bored people. I'm sorry, but the use of effective visuals can increase comprehension, improve retention, keep a presentation on track, and further the level of engagement. Outlawing PowerPoint is like avoiding the roads because some people get in accidents.
Good Presentations Kick Butt
Even the biggest haters can recall experiences where presentations really drove a point home. Maybe it was Al Gore's presentation from An Inconvenient Truth or nearly anything delivered at the TED Conference. Perhaps it lacked serious production value but really added to a speech. The point is—good stuff is out there.
Here are two popular and compelling presentations from SlideShare:
Good Visuals Don't Make A Speech, They Complement A Speaker
Visuals should reinforce a speech, they need not and should not serve as reference material. If the slide deck offers everything that the speaker will say then the speaker should stay home and send off the slides. It's entirely acceptable for slides to make no sense whatsoever without the speaker.
If you want to provide reference material then provide it. But only in very specific training circumstances should the slides be that reference.
How To Present More Effectively
I was once of the "Headers and Bullets" school. But a few people changed my tune. They taught me to reinforce my points with compelling imagery, to use far fewer words, to be subtle with animation, and to tell stories. Those people were:
A Few Tips To Get Started
The folks above have much experience than I do, but here are a few quick tips to walk away with:
Keep fonts 18pt or larger (so people can read them)
Avoid sentences when possible. Avoid paragraphs 99% of the time
If you don't know a lot about animation or transitions, don't bother with them–it'll do more harm than good (no one will notice it missing, but everyone will notice if you're trying out "fancy new stuff")
Avoid clipart. Try Flickr or iStockPhoto
Use full screen images to drive points home
My Advice
If you're managing an event, seriously discuss the use of visuals with speakers. If they avoid too many bullets and rehearse then the visuals will add a powerful dimension to their presentation. Whatever you do, don't blindly reject PowerPoint.
If you present regularly, visit the references above (as well as Presentation Zen) for insight into professional and compelling presentation design. (Oh, and my company designs PowerPoint templates. Go figure…)
Effective presentations are powerful. Do you have any advice or resources to to add?


You should really subscribe to Technotheory via

email or rss.
---
---