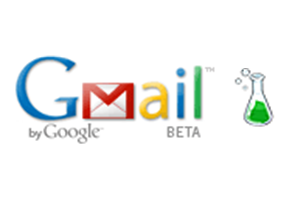 Gmail has a series of optional features called Gmail Labs.  If you're a Gmail user, some of these can add serious time to your day.
If you want to get yourself out of trouble and be more efficient in Gmail, installing these takes about 60 seconds.
To find these features, login to Gmail and then click Settings, Labs: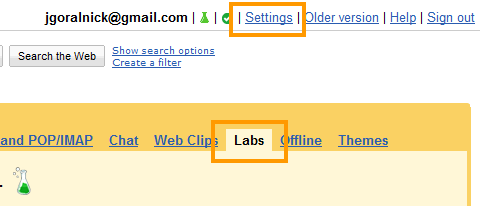 I've broken my list into three parts, those that just take one click and that everyone can save time with immediately, those that take a little more setup, and those that have less to do with productivity but I still wanted to mention.
Gmail Labs Time-Savers that Take Zero Time to Install/Use
Forgotten Attachment Detector – if Gmail detects language indicating you meant to include an attachment, and there are no files attached, it'll warn you before sending the message.


Vacation Time! – We often forget to turn on or off our vacation auto response messages.  With this, you can now set start and end dates for your vacation message…so it'll automatically turn on and off during the dates you select.

Send & Archive – When you respond to a message, the next thing to do is archive it.  But we usually forget to remove it from our inbox until much later.  This adds an option to both send a reply and archive the message thread at the same time, saving you the trouble to come back later and file it.  I LOVE THIS.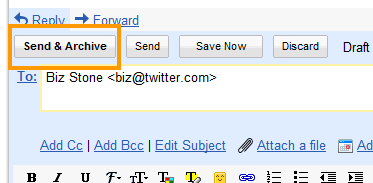 Undo Send – Did you ever press the send button and then realize right afterwards that you forgot something or that there was a typo in the subject or perhaps  something much worse?  Undo Send gives you a short amount of time (assume 5 seconds) to press a new Undo hyperlink before it mails out your  message.  So if you made a mistake, you can fix it before the message is delivered.

Title Tweaks – Sometimes I click over to the tab for my email just to see if I have new mail.  That's because the count of messages often gets cut off by the number of browser windows I have open.  This fixes that by placing the message count earlier in the title.  If you use Google Apps for Your Domain this is a MUST feature.  Note the difference in the picture below (new result shown before old result):

Suggest More Recipients – When you start messaging a group of people, Google intelligently selects who else you frequently send to along with that group.  This is incredibly helpful.  For instance, in the message below, Melody and Tim are usually involved when I'm messaging Genie and Jessica.

Gmail Labs Timesavers that Take a Little Bit of Thought
Email Addict – Adds a link to your Gmail menu bar called Take a Break.  Clicking on it will force you away from email for 14 minutes.  Not for everybody, but it's sure a great help for me!  (sadly you can get around this by opening the account in another tab. Shoot, I shouldn't have said that!)

Offline – this is the only one that requires an installation, but it's also pretty amazing to be able to read and respond to email while you're offline.  If you find yourself on a train, plane, or generally without internet access, this can come in handy.
Tasks – For email to get out of your inbox, you either need to respond to it or save it for later.  To save it for later, you need a task list.  While Gmail's task list is not the most robust in the world, it gets the job done.  Once enabled it will appear on the bottom right of your Gmail window.  When expanded, it appears like this: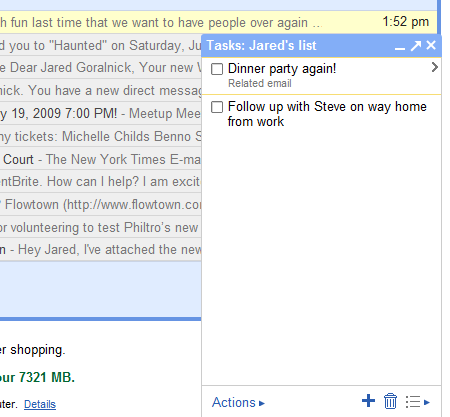 Gmail Labs that I Use But You Might Not Need
Signature Tweaks – I don't like my email signature going at the bottom of the email, I much prefer it just below the message I'm sending.  This takes care of that.
Advanced IMAP Controls – Since I use Postbox on my desktop I like to be able to control which labels (i.e., folders) are synchronized and which aren't (I find the "All Mail" label to be redundant).  This lets me do that.
–
Other Gmail Labs or Gmail tools you find to be particularly helpful?


You should really subscribe to Technotheory via

email or rss.
---
---