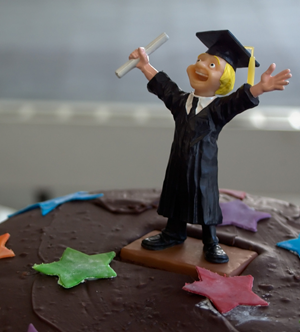 This summer, Cutter Benchmark Review invited me to create a workplace productivity survey with Joe Feller.  We were able to collect some interesting data and publish our analysis of it.
Normally $50, I'm able to offer both mine and Joe's analysis, along with the survey results, as a free PDF to Technotheory readers.  Read on for a couple snippets and a link to download the full article.
Creating the survey was fun, though I wasn't surprised with the direct survey results, so I wanted to see if there were any correlations in the data.  Since I know little about regression analysis and sample sets, I contacted Zoë Thorkildsen (an economist/statistician who is looking for full-time or contract work right now—contact me for info on getting in touch, she's in DC) and we discovered some fascinating correlations like this one from page one of the article:
Users with more than 100 messages in their inbox are…

Less satisfied with the quality of their finished projects
More behind on their projects
Less likely to know what tasks they need to work on at the start of a workday
There were other interesting correlations about the way people prioritize their time, when they finish projects, and how much time they spend working after hours.  You can download the full article from Cutter Benchmark Review here (my article is pages 13-19 and all of the survey results are included.  Joe's article, which really digs into the data, is also included).
                                  Download it here! – use code PERSPROD
While I think you'll love the article (it's amazing how much an editor can improve one's writing!), here's a snippet I wanted to make sure made it to Technotheory.  It's my explanation of The Critical Path, a topic I've been meaning to explore here:
–The remainder of this post is from the article.  For much more, download it!
When analyzing the research data above, I touched on the urgent-versus-important prioritization.  A technique for visualizing and clarifying the most important items is plotting out the critical path.
Urgent tasks are ones that ought to be completed in the immediate future, like a memo due this afternoon. Important tasks are ones that will have a serious impact on your position or your company, like migrating staff to a new accounting system in which your company has already invested. There are times when an important task becomes urgent. There are times when an urgent task feels important. But to get my head past these nuances, I like to think of a third category called critical tasks.
My company has a software application, and if we don't launch its next version, then we will go out of business. Thus, my critical objective — my most important goal as the company's leader — is that we launch and that we do it in the fall. The tasks that get me much closer to launching our application are what I consider to be critical, as they're on the critical path to the company's (and my) success. It's important to identify both your critical objective (or if you have two or three, what they all are) and the tasks that will get you there. Your critical objective is likely the accomplishment you'll write down on your résumé some day as something you've done. It's the item that takes a lot of work but will be transformative for you or your company. To determine your path to your most critical objective(s) follow these steps:
Grab a sheet of paper and spend five minutes brainstorming every task that you need to complete. List the small things and the big things, crucial tasks, and incidental tasks. List everything.
Grab another sheet of paper, this time lengthwise, and write out your most critical objective on the right side in the center (see Figure 1; while for ease of reading we've presented an example in a more formal way, yours may certainly be handwritten). If you have two critical objectives, write them both (one at a third up from the bottom of the page and one two-thirds up).
Draw an arrow (or arrows) from the left side of the paper pointing to the critical objective(s).
Using the list of tasks you brainstormed, plot the ones that will get you close to your critical objective on the line. Treat it like a loose timeline, with the tasks that must be completed first further to the left.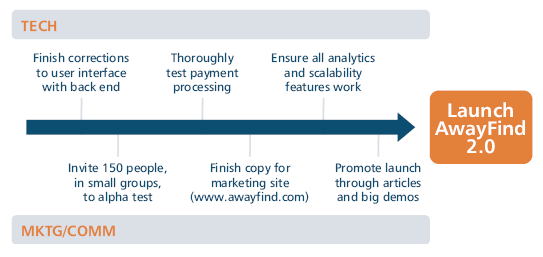 What you'll likely find is that there's a very small percentage of your responsibilities that are essential enough to be on your critical path. Every day you'll want to make sure you make some progress on those responsibilities. They're not just important, they're necessary. What you'll notice is that on the days where you address those critical tasks you'll feel like you've made progress; you'll feel like those are the best days at work. On the days where you get things done that aren't on that path, you may actually feel worn out because, to some degree, you didn't get the bigger project closer to the end point.
I'd suggest keeping that piece of paper near you at your desk. If necessary, you can draw up a new one every month as your responsibilities shift. You've probably heard of the concept of the "critical path," but time and again I've seen people's eyes light up when they actually grab a sheet of paper and go through this exercise. Visualizing your tasks and identifying those tasks that will truly move you forward can really change your perspective.
–
Do you have any thoughts or questions about identifying your critical path?  If you're interested, there's much more in the Cutter Benchmark Review article (with more awesome illustrations), download it here.


You should really subscribe to Technotheory via

email or rss.
---
---